This Week's Industry News
Compiled by the Rocket Clicks Team
Top Stories
Google Maps Adds Option to Post and Share Public Events
Select Google Maps users now have the option to post public events based on their location. As of now, this feature is only available in the Android app to users in specific regions. Users can add a name, location, start time, end time, category, description, website, and photos for each event.
How to add an event:
Open the Contribute tab
Go to Events
Select "Add a public event"
How to edit/delete an event:
Open the Contribute tab
Go to Events, and choose the event
Select "Edit this event"
Enter changes, or select "Delete this event"
Sources: Search Engine Journal & Google Maps Help
Google Updates its Keyword Planner
Google has launched an updated keyword planner that has new features as well as updates to older features. To get started, you can now add up to 10 seed keywords when you select the "Find new keywords" option. Grouped keywords can now be found under the "Grouped ideas" menu option. Add all or some of the keywords in a grouped idea to an existing or a new ad group. View or download monthly trends for individual keyword ideas. Add new keywords to a campaign that already exists. Choose "add to plan" or "add to existing campaign". View more detailed information about keyword competition. And, the planner now provides a suggested daily budget for the keywords added to your plan.
Source: Search Engine Land
Google Adds Code Editing Option to Mobile-Friendly/AMP Tests
Users can now edit code and rerun tests live right in Google's mobile-friendly and AMP testing tools to see how changes will affect the site's performance. This new feature will allow users to save time and minimize risks when it comes to adjusting code.
To use this feature, simply go to either the mobile-friendly or AMP testing tool site and enter in a snippet of code to test. Users will no longer need to change code directly on their live site and rerun the test to determine the impact. Instead, they'll be able to test parts of their code using this new feature and confirm that the code is still mobile friendly on their site.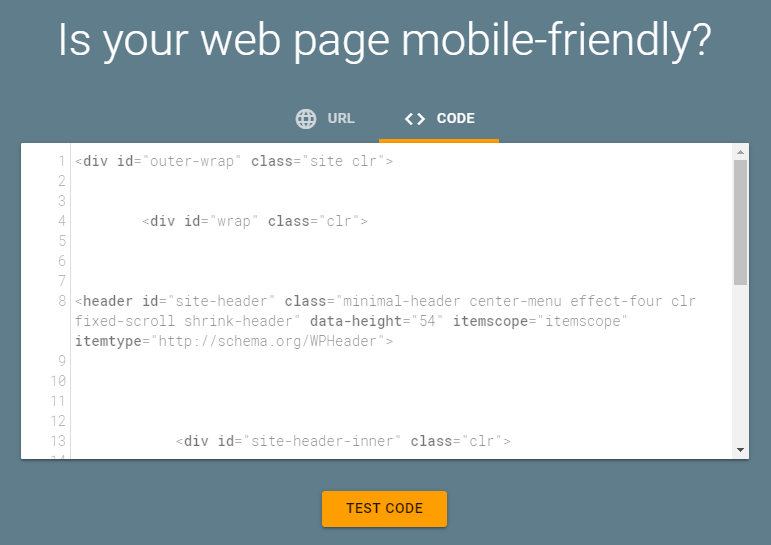 Source: Search Engine Land
Google Ads Editor Gets an Upgrade
Adwords Editor has become Google Ads Editor and comes with several new features. You can now apply changes across accounts, even if they're not in the same MCC. Editor now offers full support for non-skippable video campaigns, and you can create bumper ads and add calls-to-action in TrueView in-stream ads. There are five new custom rules are available in Google Ads Editor. One will tell you if a video campaign isn't targeting Google video partners. Another new custom rule will alert you if there aren't any RSAs in an ad group that has an enabled expanded text ad. Google is also bringing the ad strength indicator for RSAs to Google Ads Editor with a new "Ad strength" column. You can hover over an ad's rating for suggestions on improving its quality. Message extensions are supported in Editor now, and Maximize conversions is available for TrueView for action and display campaigns. You can target and exclude audiences in Smart Display campaigns and do more with App campaigns in Editor.
Source: Search Engine Land
Analysis:
4 Ways to Optimize for Local SEO
Local SEO is growing rapidly, so it's important to keep up. User search habits are changing with more "near me" searches than ever before. Before optimizing for local SEO, be sure to know what your audience is searching, what problems they have, and how you can help to solve them.
Focus on Mobile Optimization
Most local searches take place on mobile devices, so it's important to make sure your site is optimized for mobile users by increasing page speed and having consistent details across your site and Google My Business account.
Include LocalBusiness schema
LocalBusiness schema gives Google detailed information about your business including price ranges for products. Users can also include this data markup to add actions to their Google My Business account including book an appointment or reserve a table.
Check Google My Business for Accuracy
Users should capitalize on the opportunity to provide Google with all the accurate details of their business including hours, location, and phone number. Google My Business accounts can be updated to display the correct information as well as include photos of the business for an insider view.
Continue Earning Positive Reviews
If your business or brand isn't necessarily well-known, positive reviews are a great way for users to come to learn and trust it based on others' reviews. Be sure to reply to reviews, both good and bad, in a professional manner to show other users you're aware of the feedback you receive.
Source: Vertical Leap
How To Write Excellent RSAs
Write the first 3 headlines and first 2 description lines as if you are writing a stand-alone ad. If you're stuck, download your expanded text ads out of editor as responsive search ads (see "export as" dropdown)
Take up all the real estate available. Short headlines are choppy and don't look appealing in the results page.
Pin the headlines and description lines that are the most important
If you run out of ideas for headlines, treat them like longer callout extensions
Test out "fluffier" language, i.e. language you would use in print ads, or language found on your About Us section on the website.
Use editor to view the strength of your RSAs after they've been running for a bit
Source: Lauren Rosner, PPC Hero