Pinterest & SEO for Service-based Companies
Companies that sell products have all the luck, don't they? Even on social media, it's easier to advertise a product than it is a service. Nowhere is this clearer than Pinterest, a purely image-based social network that has become something of an obsession in the last few years.
The good news is: If you sell services instead of products, Pinterest can still play a role in your digital marketing strategy. We've got some SEO advice on how to incorporate it.
Setting Up Your Pinterest Account the Right Way
Whether you're just starting with Pinterest or you already have an account, it's worth taking a few minutes to make sure your profile is set up as efficiently as it can be.
Making the Most of Your Profile
The first thing you'll need to do is make sure you have the best username available to you. Ideally, this should be as close to your company name as possible, but Pinterest limits names to 15 characters. If your name doesn't fit (or if it's already taken), consider what the most relevant keywords to your business are and go from there. For example, a dog groomer in Milwaukee, might consider using "MKEDogGroomer" if their company name is too long.
Similarly, when you're uploading a logo, be sure the image's filename is something descriptive. "Logo.jpg" might make sense to you, but Google would just lump it in with countless other files of the same name. The filename will become the image's title tag, which ultimately tells search engines what the image actually is. For the most part, using your company's name as the filename is fine.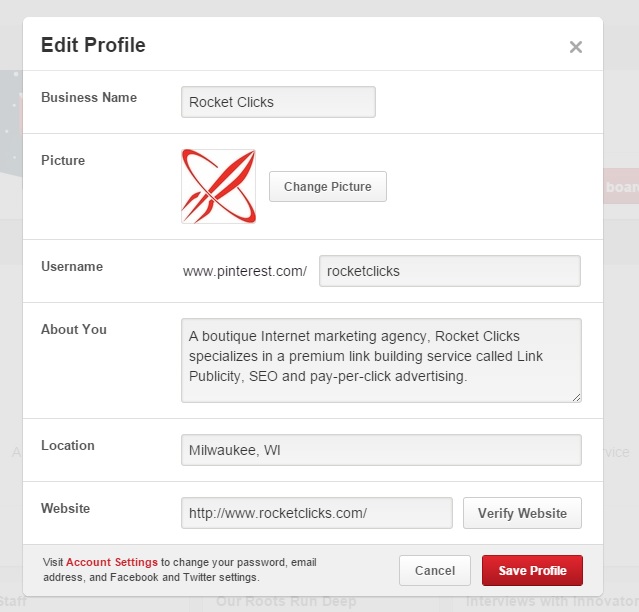 Make sure you fill out the "About You" section. In 200 characters or less, describe your business using a few of your top keywords. Ideally, try to make this a little more fun (assuming it fits your business).
Finally, make sure you add a link to your website. Pinterest nofollows all of their links now, but you can still get significant referral traffic.
Accessing Pinterest Analytics
The next step is to verify your website through a process similar to Google Analytics. Doing this will give you access to Pinterest Analytics, which gives you better insight into how successful your strategies are.
You'll need to make sure your account is set up as a business account in order to access this feature. If you're using a personal account, it's easy to convert it.
Make Sure Your SEO Efforts Aren't Wasted
Double check your account settings to make sure your search privacy option is set to allow search engines to index your content (the option should be set to "No").
We'd also recommend taking the opportunity to link your Pinterest account with your other social media accounts for better cross-promotion. This depends more on your overall social media strategy, however.
Curating Relevant, Interesting Boards
Pinterest uses boards to organize pinned content by certain themes. You'll have some boards by default, but you'll almost definitely want to get rid of these. For product-based companies, creating board themes is relatively easy. But service-based industries can create some interesting boards, as well.
Extend Your Brand
As with all social media, Pinterest is an extension of your company's brand, so why not treat it like one? One great option is to post behind-the-scenes photos such as a company picnic or brainstorming session.
At Rocket Clicks, we have a board dedicated to getting to know our team members and another board that shows our love for Milwaukee. These boards don't offer any immediate benefit in terms of sales, but they add personality and help humanize our company. We aren't just a bunch of SEO and PPC robots, after all!
Cover Your Industry
Odds are, people interested in your content are interested as your industry as a whole. If you find an interesting infographic or quote relevant to your services, pin it. Need some examples? Boards that collect infographics are always popular. You could also keep a list of interesting books or news stories related to your services or company values.
Not finding anything relevant to pin? Create something! Not only will you be providing original content, but you can link directly back to your site, increasing your company's exposure.
Sale-oriented Boards
Even if you can't showcase your services as easily as product-based businesses, Pinterest still has some ways to provide more direct benefits to sales. We're fans of testimonial boards with creative image quotes from clients that link back to a testimonial page. Simple images can work for this, but Pinterest is a site all about images, so something eye-catching is better.
You can also do your best to imitate product-based posts by pinning pictures of your work with clients. Whether these are in-the-moment action shots or before and after comparisons, these boards can help demonstrate the quality of your services while linking to a sales page.
Properly Optimizing Your Boards
When you're creating and curating your boards, make sure you're keeping search optimization in mind. Board names are short, but they should always incorporate relevant keywords. Likewise, take full advantage of the board's description. Treat it like you'd treat content on your site.
For your actual pins, similar rules apply. Relevant keywords always have a place in pin descriptions. You'll also want to include links to your site wherever they're applicable. Again, these links are all nofollowed, but they'll bring more qualified referral traffic.
You'll also want to use the best images possible. Pinterest is almost completely visual, so grainy, low-quality pictures just aren't going to cut it.
As with all SEO efforts, keep in mind that you should still be working to provide the best experience for the user. You might think a description stuffed with keywords is going to help your pin get attention but, even if it does, users are less likely to interact with it.
Be an Active Contributor
One of the worst things you can do with your Pinterest account is to use it only for outbound marketing. Interact with your followers, comment on pins, repin interesting and relevant content. You're more likely to cultivate an interested audience if you show an interest in your followers.
Along the same lines, make sure you're pinning regularly. There's no real rules for how often this should be, but use your best judgment. Accounts with long periods of inactivity are unlikely to pick up new followers.
Setting Realistic Expectations
As you may have picked up throughout this article, Pinterest nofollows all of the links coming from their website, meaning there is no direct benefit to SEO, at least in terms of link equity. What Pinterest offers is what any other form of social media offers: a chance to expand your web presence in a meaningful, but controllable way.
A successful Pinterest campaign will help you send more qualified referral traffic to your website, which will hopefully increase sales that way. Your Pinterest profile may also come up in some search results, which gives your brand another way to be represented.
What are you waiting for? Get Pinning!