Advanced strategies that deliver value for you and your customers
Get a Second Chance at a First Impression
When executed well, a remarketing campaign should serve as a reminder and offer value while influencing user behavior.
Our core offerings in remarketing & retargeting include:
Media Planning, Buying & Optimization: We work with you to determine the best fit in terms of inventory, audience, targeting, and bidding style – and proactively manage the results to minimize wasted spend and maximize campaign ROI.
Creative Recommendations: We help our partners understand their potential customers, the marketing message and call to action, and latest best practices for creative design.
Audience Identification & Setup: We look for insights from your analytics and build audiences designed to convert, whether they are implemented using Google Analytics, pixels, or another solution.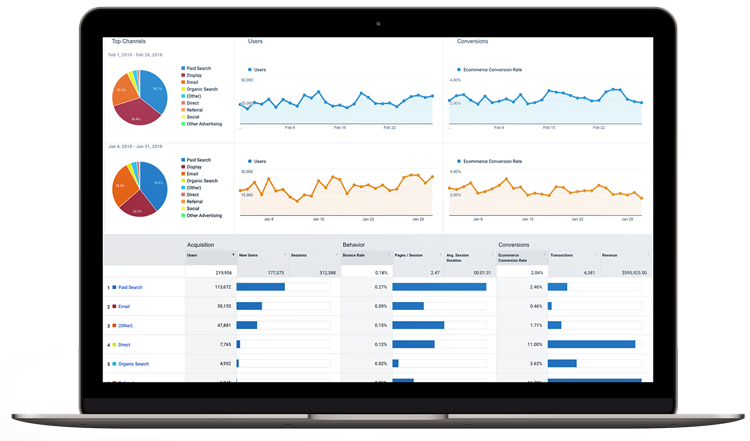 Smart Remarketing Adds Value
There are many types of remarketing we can help you with:
Display remarketing: We can reach a vast majority of online inventory using both the Google Display Network (GDN) as well as other ad exchanges.
RLSA (remarketing lists for search ads): We can reach users in the consideration phase of their journey by showing up in search strategically following their initial site visit, dramatically lowering cost per acquisition (CPA) on most search campaigns on Google AdWords & Bing Ads using smart overlays.
Social Retargeting: We can reconnect with users across Facebook and Twitter's platforms.
Customer Match: Overlay your customer email lists over a variety of campaign types including search, display, shopping, social, Gmail and video.
Can you afford to annoy your potential customer by giving them the sense that they are being followed by a creepy, low-value advertisement? Our approach to remarketing sorts out the confusion in the customer journey and builds an intelligent marketing funnel based on advanced audience targeting and creatives that make sense.
Looking for more than remarketing? See our full list of PPC services