This Week's Industry News
Compiled by the Rocket Clicks Team
Top Stories
Google Adds Dynamic Email Feature to Gmail
AMP email, or dynamic emails, is now available in Gmail, which allows email marketers to create email messages their users can interact with directly through their inbox. Using dynamic emails allows the creator to keep information up-to-date giving users the option to browse and explore the content just as they would on the actual website. Other email providers, including Yahoo and Outlook, will also support dynamic emails.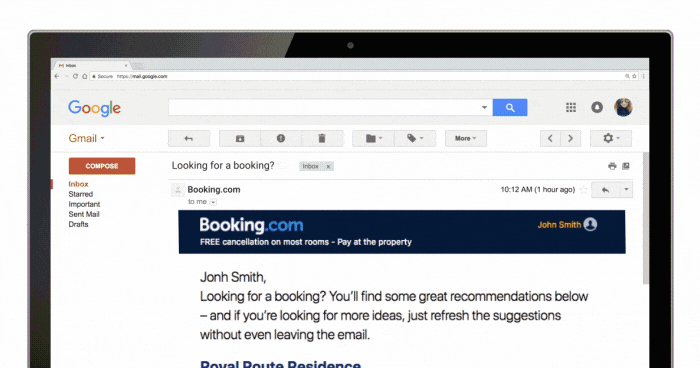 How To Send Dynamic Emails:
If you're a G Suite customer, you can enable the dynamic emails function in the Admin console.
If you're not a G Suite customer, you'll need to register with Google and comply with its guidelines and requirements.
Dynamic emails can be created in the AMP Playground app, which allows for the creator to edit code and see changes in real time.
It's important to keep in mind that if a dynamic email is opened in a mail app other than Gmail, such as the original iPhone Mail app, the static version will be displayed instead of the dynamic version.
Sources: Marketing Land
Bing Adds New Extensions
Bing Ads introduced a new extension which lets advertisers utilize call-to-action buttons with text ads. In testing, Bing's new Action Extensions helped advertisers achieve an average 20% increase in click-through rate. Up to 70 pre-defined Action Extensions are currently available in Bing Ads in all of the platform's supported languages. Clicks on Action Extensions will be charged the same cost-per-click as clicks on the ad headline. Action Extensions can be shown with other ad extensions, including sitelinks. Action Extensions can be associated at the account, campaign, or ad group level, where the lowest level takes precedence.
*Image provided by Search Engine Journal
Source: Search Engine Journal
Google Search Console Enhancement Reports Showing More Issues
Google sent a warning that users will likely see an increase in errors and new issues in the Google Search Console enhancement reports starting April 3, 2019. This is simply because Google is starting to collect data from more pages than it has before.
This will affect most reports including the AMP report, mobile usability, products, and jobs. If you notice a spike in errors or issues, it's important to realize these are likely not new issues but rather ones that Google didn't point out before because it wasn't reviewing those particular pages. SEOs, webmasters, and developers can use this new information to address issues on pages not previously reviewed in Google Search Console.
Source: Search Engine Land
Google Assistant Does Not Identify When Results are Ads
Google Assistant isn't making users aware that some of its recommendations are being generated by local services ads. Reuters broke the news, stating that five advertising attorneys agree Google is close to violating its own disclosure rules. "The feature recommends plumbers and other local home service providers without disclosing that the results draw from a curated database mainly composed of companies that joined a Google marketing program." As it stands, Google is not getting paid when results from local home service providers are delivered through Assistant, according to a statement provided to Reuters.
Source: Search Engine Journal
Analysis:
Steps to Improve or Remove Old Content
Updating or removing old content can ultimately affect traffic, organic search visibility, links, engagements, and conversions, which is why it should be done with care. Follow these steps to ensure the changes are beneficial:
Analyze Existing Content:
Crawl site to gather full content inventory
Starting with the most relevant, traffic-driving pages, take note of the following:
Title, URL, author, publication date, readability, number of links
Determine Quality of Content:
According to Google, quality content is useful and informative, credible, engaging, and overall more valuable and useful than other sites.
Consider these metrics when determining quality content: pageviews, organic traffic, links, conversions, and engagement.
Decide Whether to Keep, Improve, or Remove Content:
Based on the metrics used to determine quality content, decide whether to keep it, improve it, or remove it from search engines.
Keep content if it's accurate, ranks in a top position, and hits the quality content metrics including high engagement and conversions
Update content if it gets traffic and has acquired quality links, but there is little engagement and few conversions.
Rewrite content and 301 redirect the old page to the new post if the topic is useful and relevant but the page doesn't garner any traffic, links, or conversions.
Consolidate content if multiple pages cover one topic, and 301 redirect the old pages to the new post to avoid internal competition on the same SERP.
Remove content if it's irrelevant, off topic, not ranking and not getting traffic by either no-indexing the page or deleting it from the website.
Source: Search Engine Journal
Pump Up the Power of Your Display Ads
Blend in with native formats – One of the best ways to boost the impact of your display ads is to use native digital displays. Native ads appeal to readers because they blend into the core user experience by matching the look and feel of display ads to the media in which they appear – such as in social media or as recommended content on a web page. Readers might see (and overlook) banner ads, but they are more apt to read native ads because they are part of the content experience.
Be ultra-targeted – Make sure that the publisher you choose provides the ability to select targeting dimensions related to user intent, profile, and location/device. You don't want a publisher that relies on three-month-old survey data. You want real-time, first-party search intent data featuring well-informed segments and hyper-relevant keywords.
Safeguard your brand – Make sure that the partner sites where you display your ads offer trustworthy content that is relevant to your brand. Look for a solution that prioritizes brand safety and that can deliver native ads across a network of premium publishers. Transparency is key: make sure your provider offers you the ability to control where your brand shows up and delivers reports showing every domain driving traffic to your campaign.
Source: Tom Costello, Marketing Land