Google Ads has come out with a performance tracker that makes monitoring your most important campaigns in one place easier than ever. The new feature, called Campaign Groups, allows for a multitude of performance tracking.
Let's take a closer look at this new feature.
What Are Campaign Groups?
Campaign Groups allow you to bucket campaigns in your account to track performance metrics across the chosen campaigns. Think of this as a similar situation to how ad groups and their respective campaigns are currently set up.
You can easily track aggregated ad group metrics at the campaign level. Campaign Groups take this hierarchy one step back—your campaigns essentially become the ad groups.
Why Should I Use Campaign Groups?
If your account contains multiple campaigns, Campaign Groups should be in your sights.
The benefits of using campaign groups include various performance tracking metrics, the chances that you will hit target goals, warnings that campaigns need attention, search term aggregation, recommendations, and much more.
So Which Metrics Can I Set Goals For?
Clicks
Conversions (Lead Generation)
Conversion Value (E-Commerce)
Unique Users
Within these performance targets, you can also set more specific goals, such as a certain ROAS, total conversion value, average CPA, and more. Thanks to the ability to set a target for CPA & ROAS, both ecommerce and lead gen clients can benefit from this feature.
In the example below, we can see what one portion of the performance tracker looks like for a ROAS target: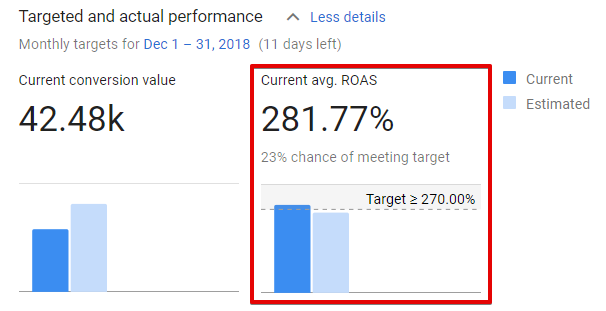 This grouping has a ROAS goal of 270% for the month of December. With 11 days left in the month, this widget will tell you your current ROAS, an estimated ROAS (though it does not show the actual percentage, just a bar graph), and the chances that Google thinks you have of meeting this target at the current pace.
Note: These performance estimates and averages will change depending on which goal you have selected for each grouping.
Date Ranges
You also have the ability to set goal date ranges which include the following options:
Monthly
Quarterly
Custom

Fixed date range
Custom repeating date range
After each of these time periods has passed, you can look back at the historical performance to see how your chosen dates have been trending. Below is an example of ROAS targeting using a monthly date range.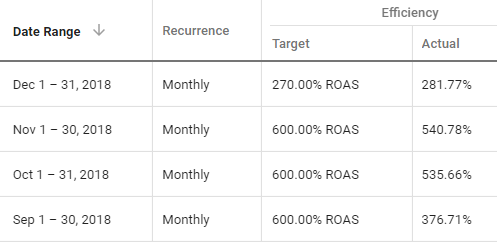 How Do I Set Up Campaign Groups?
Google Ads makes it simple to set up and begin tracking your Campaign Groups:
Click on the arrow in the top left corner of the interface next to 'All Campaigns'.
Select "All campaign groups"

This will take you to the following screen, where you can start your first campaign group.

Select the campaigns that you want to group together. For optimal efficiency, choose campaigns that share a similar goal.
Once you've chosen your campaigns, you will choose:

Performance targets
Date ranges
More granular targets within your performance theme
You have successfully created your first campaign group! You can switch between campaign groups and the normal view using that same drop-down menu in the top left-hand corner of the interface.
Downfalls
We cannot talk about the benefits without telling you the negatives to this feature.
One glaring issue we have discovered is not having the ability to add a single campaign into multiple groupings. If you have more than one campaign group that a specific campaign may fall under, unfortunately, you'll have to make a tough choice.
Other than that, this feature will enhance your ability to track multiple campaigns across your account to take your PPC skills to the next level.