When your day job is optimizing for search engines, you spend a lot of time getting familiar with what search engine results pages look like. Normally, you'll see minor changes here and there, but the overall results stay largely the same. But every once in a while, something happens that can dramatically change a results page for a given term.
Probably the most notable of these occurrences in recent history was when Beyoncé dropped her Lemonade album last year, and it completely overhauled Google's results page for the "lemonade" query.
Now Packer fans have their own version: run the table.
When Aaron Rodgers first made his run the table remarks back in November, I doubt anyone thought about the impact he might have on "run the table" as a search query. But looking back on it now, his influence was pretty dramatic.
Let's just take a look at what the results page for that looks like today:

Sure, Urban Dictionary makes an appearance, but the rest of the page is almost entirely dominated by Packers-related topics.
I wasn't able to pull a historical screenshot for the results, but since it's almost all tied to Rodgers' comment, you can rest assured that it would be almost unrecognizable.
It's not just the results that Rodgers changed though. Just take a look at how his comments impacted the search trends of "run the table" according to Google:

Notice the uptick in late November and then the much larger uptick towards the beginning of 2016? Hint: The biggest jump was January 2 – the day after the Packers beat the Lions to secure the NFC North championship and their spot in the playoffs.
We can see that search interest reflected in the monthly search volume as well: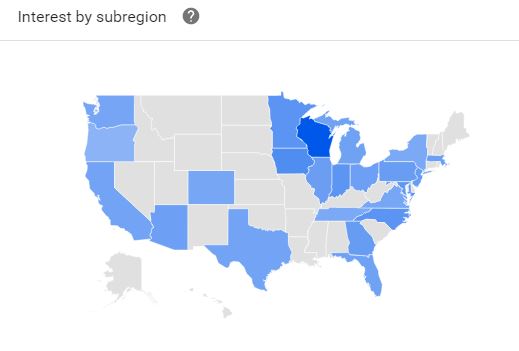 That's a pretty impressive jump.
Now, I know what you're thinking: Of course a Wisconsin-based search is going to come up with Packer results. And that was my first thought, too. But in reality, "run the table" was generating interest throughout the country:
So, for context, we ran the same search from Alaska. Here's what we saw:

It's still mostly Packers – and Alaska doesn't even have an NFL team!
Takeaways for Marketers
For SEO, taking up as much real estate on the results pages is key. After all, the more opportunities someone has to click on something related to your brand, the better. And if you can dominate the results pages because of a news event? Great!
It's nothing new or groundbreaking, but this just reinforces the idea that, if your brand can capitalize on a news event, doing so has major benefits. This is where the lines of PR and digital marketing start to blend, but the combination can be incredibly powerful.