When users type a question into Google, a featured snippet might show up at the top of the results. This can also be called a "rich answer" or ranking zero. A featured snippet includes a summary of an answer to your search, the page title from where the information was taken and the URL. It can also show an image, table or bulleted list. The words that were in the original query will appear bold in the snippet.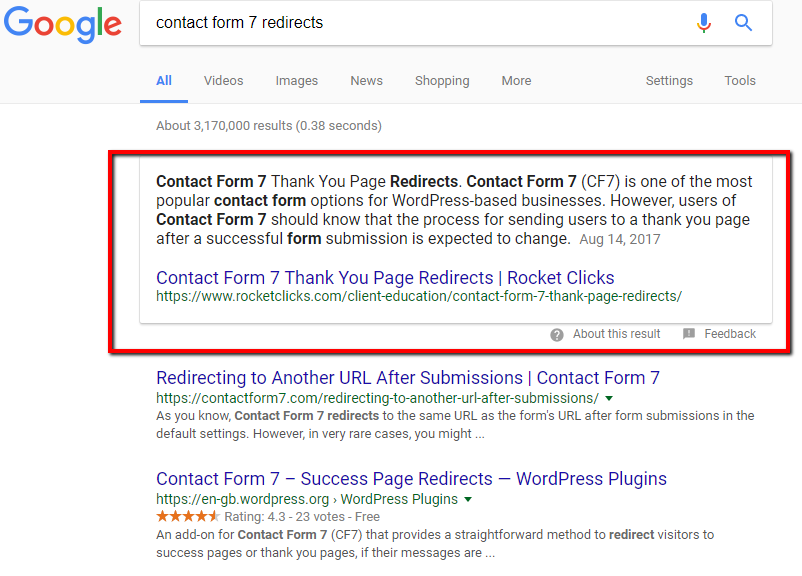 These snippets are designed to draw a user's attention. Google will find a page that answers the searched questions to have displayed at the top of the results. The only way to get a featured snippet is if Google decides to create one with your page content in it. Google is constantly searching content to show in a snippet, so the results can change over time.
Having a featured snippet allows you to take up more organic space on the first page of the search results. There have been many case studies on how a page's click per rate increases when having a snippet in Google. It will bring more traffic to your site and increase your site's authority.
Long-Tailed Keywords
The use of long-tailed keywords will help you rank better in Google searches. Write the content on your pages for the long-tailed keywords that you are targeting.
At semrush.com you can see what competitors are getting for their featured snippets and what keywords they used. An easy way to do this is to go to Keyword Magic Tool under Keyword Analytics. Search for a keyword, select "questions" and click the SERP Features drop-down for featured snippet. You can then see what the keywords are ranking are and what pages are receiving featured snippets for that term.
The results will probably not update right away. To find what featured snippets your site has in SEMrush go to Organic Research under Domain Analytics and put in your URL. Under the SERP Features column on the right, click on "Featured snippet" and you will see all of the pages that have featured snippets from your site.


Optimize Page Content
Find a common question in Google that you would be able to answer with content on your site. Search some common questions that relate to a topic you want and see if there is already a featured snippet. Look at the "people also ask" questions and aim to answer most of those. Also look at related searches at the bottom of the page and get ideas there. Write the content with value and insights that users may not have known before.
The heading titles in your content can target the main question or keywords you are searching.
You can start with your highest ranking pages from Google Analytics to have a better chance of landing a featured snippet. Or you can create a new page with content your site could benefit from.
Submit Pages
Submit your pages in Google Search Console for Google's Index. Google has to be able to crawl your site in order to understand the content and to be selected for a snippet. If you go to Fetch and Render in Search Console then you can enter in the URL of the page you just worked on optimizing. Click "request indexing" and wait for the request to be submitted.
Results will not happen immediately, so you will need to check your pages for changes. The content still needs to pass Google's ranking system and follow the rules of duplicate content, keyword density and the many other factors to be selected for a featured snippet. Your site does not have to be the highest organic ranking in order to be in the snippet, but it stills needs to provide insight.
Featured snippets do not display for searches that show a local pack in the results. If you are a local business, you'll want to try and rank for the map listings that Google shows.
Finding the best keywords that users are using for search queries, optimizing your page content for those keywords and submitting your page to Google's index is the best chance for receiving a featured snippet. Having a snippet will increase your organic traffic and bring in more users to your site. Users will also see that your site has authority on the subject and is approved by Google's standards.