Funnel-driven bidding approach & RLSA re-captures highly engaged and ready-to-buy traffic in saturated and competitive industries.
The Challenge: Long Buying Cycle Product in a Competitive Industry
A partner of ours in the furniture industry has always had several challenges when approaching their marketing.
One of these challenges is that several top-of-funnel keywords account for a large percentage of their ad spend. These terms weren't resulting in direct revenue but were supporting in the research and consideration phases of the buying cycle, which could last up to several months.
The Solution: Tiered Remarketing List for Search Ads for a Prioritized Second Chance at Previous Users
We started by creating audiences with behavior that would indicate different stages of the buying cycle and applied them to our search campaigns. Over the next several weeks, we "listened" to the data and analyzed the performance of those audiences versus the first-click users.
We reported notable improvement across all metrics, including much higher click-through and conversion rates with a reduced cost-per-acquisition. 
Using this information, we established bid adjustment tiers that ranged from 0-10% up to 70%. Those audiences with stronger buying intent (e.g., putting an item in a shopping cart) were given a much higher adjustment compared to those demonstrating "awareness indicators," such as searching just the phrase "office furniture."
We also deprioritized users that was considered a "quick bounce" by spending less than 5 seconds on the page.
The Results: Maximizing Coverage on "Warm Traffic" with a 337% Increase in CTR and 63% Lower Cost Per Acquisition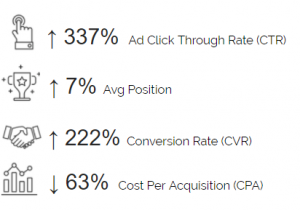 We saw all metrics improve for each of the audience groupings.
Compared to standard traffic data, we saw a slight increase in average CPC of roughly 14%, but the focused approach holistically brought in highly-engaged and purchase-ready users.
For example, our "buying indicator" grouping saw a conversion rate improvement of 1647% and a CPA reduction of 92%. Similarly, our top of funnel audience improved its conversion rate by 94% while reducing CPA by 51%.
Rocket Clicks Summary: Understanding Your Unique Search Funnel Matters When Optimizing Your PPC Account
This strategy allowed us to recapture already engaged users and brought them back to the site to convert. We also saw an increase in overall branded searches during this time, bolstering the assumption that our increased presence created a more cohesive and memorable brand experience.
Understanding the behavior of the users in the search funnel allows you to target these users in unique ways, making sure your brand is consistent and present.