Search Engine Optimization lives and dies on the search engine's results pages (SERPs). More specifically, it lives and dies on Google SERPs.
Not that search engines like Bing, Yahoo and Baidu are to be completely discounted, but Google holds over 90% of the search engine market share worldwide. Therefore, it understandably gets most of the attention.
As the industry leader, Google is on a never-ending mission to improve the search experience for users. Looking at the Google search results from 2001, it looks almost barren compared to 2018 – and that's largely due to the SERP features.
SERP features are essentially different ways that results are presented in the SERPs. This has created not only a better user experience, but it has changed how SEO is performed as well.
Rather than solely concentrating on ranking in the top 10 on page one (the iconic "blue links"), SEOs must now also optimize sites to target these featured positions.
While Paid Advertising does play a part in the SERP features, with Adwords and Shopping Results among others, this post is going to concentrate on the Organic SERP features and why optimizing for these has never been more integral to an SEO strategy.
Featured Snippet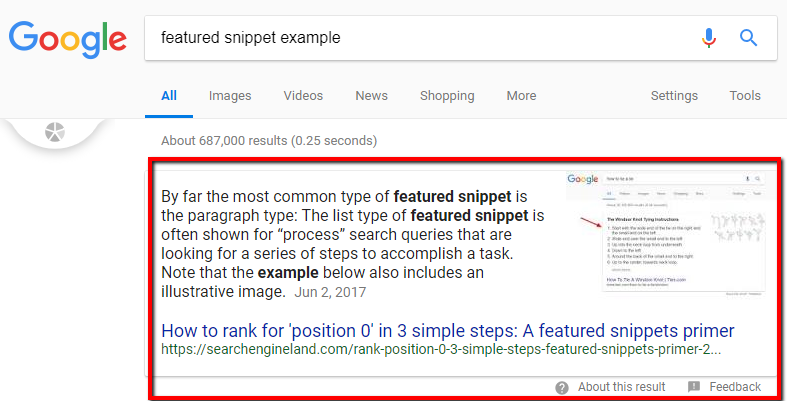 Not to be confused with Rich Snippets, which can include product pricing and review stars in the organic listing through structured data markup, the Featured Snippet is typically the boxed answer to your search query at the top of the SERPs.
Sitting in what has become known as Position Zero, the Featured Snippet is often the first place a user will look and will often have a much higher CTR than the organic results below. Depending on the query, you might see the Featured Snippet answer in the following forms:
Paragraph
Numbered or Bulleted List
Tables
Not all queries will deliver a Featured Snippet, but when they do it is in your best interest to set your goals for that coveted spot and optimize appropriately especially with the rise of voice search, which often takes its answers directly from Featured Snippets.
Knowledge Graph & Knowledge Panel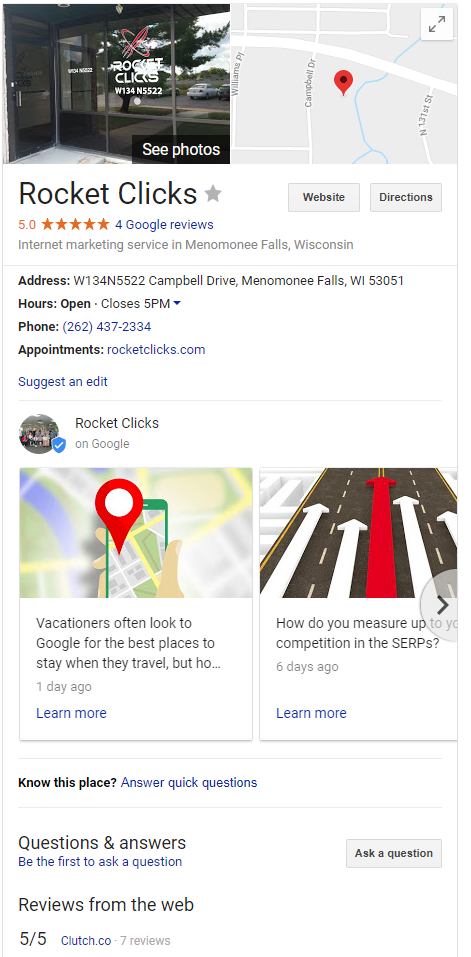 Typically appearing on the top or to the right of the organic search results, Knowledge Graphs and Knowledge Panels are one of the boldest and hardest-to-miss SERP features.
While very similar in appearance, there is a distinct difference between the Knowledge Graph and Knowledge Panel. The Knowledge Graph displays information, images and other details about people, places and things. This information is compiled by Google and packaged together in what has been deemed the most relevant for the user's search intent.
The Knowledge Graph is great, but the Knowledge Panel is what should peak the interest of those interested in SEO, namely because you have more control.
The Knowledge Panel is a branding goldmine. It takes information from your Google My Business listing and adds the name address, and phone number information from GMB as well as other information from around the web.
This is also where a company's Google reviews are visible, along with a seemingly endless number of new features including:
Reviews from Around the Web
Google Posts
Google Q&A
Popular Times
Map Info
Menu Links
Website Links
Images
Directions
People Also Search For
And more…
Leveraging your brand via the Knowledge Panel is a must for any business, and while some of the Panel features come and go – it's all based on what Google's algorithm deems the most useful to users – it all adds more information about your business to the search results.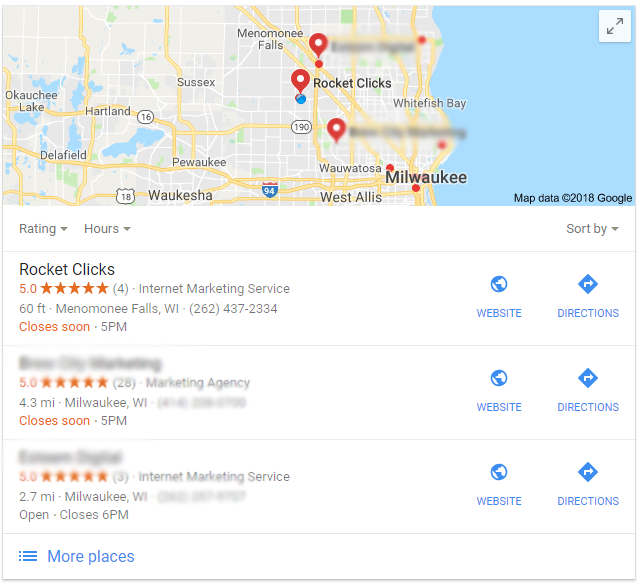 Local Pack
When it comes to local results, the Local Pack is a SERP Feature that can't be ignored.
Shown as a 3-pack of local results underneath a Google Map with location pins, the Local Pack is where you'll see the highest user engagement and CTR.
You may rank on page one for "best Mexican restaurant in Milwaukee," but if you aren't showing up in the Local Pack then you need to increase your Local SEO efforts. The Local Pack is where most searches will start and end.
More SERP Features
Site Links – delivers links to alternative pages below the main organic search result based on your site's structure
Searches Related To – a great tool for keyword research and understanding how users are searching for a specific topic or query
Image Packs
Twitter Feeds
News Boxes and more
At the end of the day, Google's SERP Features are in place to deliver the answer that users are searching for. In that sense, your SEO efforts don't really change much but your targeting might. Using best SEO practices, you create your page, content and listings to show that you are the authority for whatever search you're targeting.
There may be new players with different skill sets, but the game is the same. Google's SERP Features provide a different, more impactful way for searchers to find what they're looking for and is now engrained in what Search Engine Optimization sets out to accomplish.