Understanding who your digital audience is and how they interact with your ads is one of the most important tools in any paid advertising toolbox. In the world of social platforms, Facebook has created a dedicated space where you can manage all your audiences for an account in one, centralized location.
Facebook Audience Types
You can add three different audience types in Facebook Audience Manager. Each audience type has unique benefits depending on the goal for your campaign and what type of user you want to reach. 
1. Custom Audience 
A custom audience is ideal for connecting with people who have already shown an interest in your business or product. You can create an audience from your customer contacts, website traffic, or mobile app. Whether it's page visitors, cart abandoners, or repeat customers, you can use custom audiences to target a specific type of user. 
2. Lookalike Audience 
Lookalike audiences are ideal for reaching new people who are similar to audiences you already care about. You can create a lookalike audience based on people who like your page, who converted on your website, or any of your existing custom audiences. 
3. Special Ad Audience
This audience type is only available for ads in a Special Ad Category. This allows you to reach new people who have similar online behavior as your most valuable customers. 
How to Create Audiences
1. Go to your Facebook business manager, open the menu, and select "audiences."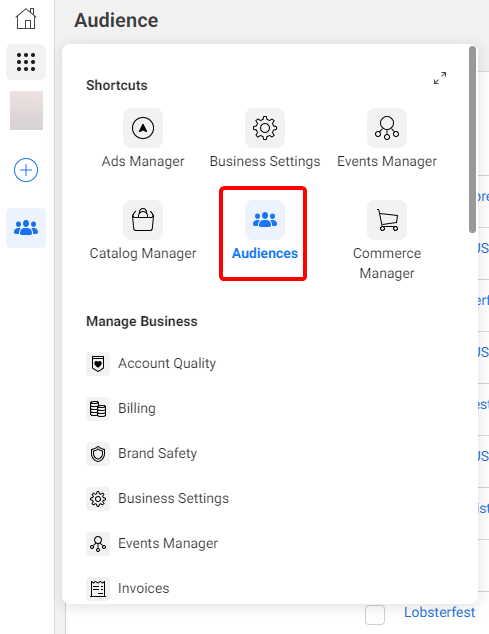 2. Select "create audience" and choose the type of audience you want to build. As a reminder, in order to create a lookalike audience, you must first create the custom audience that you want to base your lookalike audience on.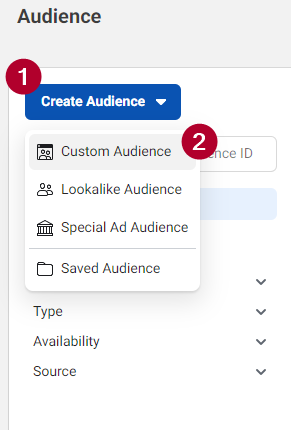 3. Once your desired audiences are created, you can use them in your ad set targeting in your ads manager. 
Implementing Audiences in Ad Campaigns
So now that you understand what audience types Facebook offers and how to create them, let's talk about implementing audiences into your ad campaigns. 
Custom Audiences 
Custom audiences are great for ad campaigns where you want a narrower target audience. Examples include customer loyalty sales, or an event that targets users who have liked your Facebook page. If you want to cultivate an audience of specific users, and have better control over who sees your ads, custom audiences are the perfect solution. Don't forget that you can also combine custom audiences to create more specific user targeting.
Lookalike Audiences
Lookalike audiences are based on your custom audiences, but they are broader. Lookalike audiences are great for higher-funnel campaigns or campaigns where you are looking to reach new users. These audiences still provide some control over who sees your ad because the user must look like an existing person in your custom audience list. Lookalike audiences will often reach a higher quality user than using demographic or interest targeting alone as it more accurately matches the profile of your existing customers.
No matter what type of Facebook campaign you're creating, Facebook audience manager is a great tool to build, manage, and apply strategic audience targeting to your ad campaigns. Utilizing Facebook audience manager will help you create a more targeted campaign that utilizes your existing customer data. Whether you're looking for repeat customers or completely new users, audience manager will help you find them.