Digital advertising as we currently know it may have been saved by the unlikeliest of resources – an ad blocker. At least, that's what Google thinks.
According to a 2017 report by PageFair, 18% of US internet users have installed some kind of ad blocking software, with 30% year-over-year growth. This mounting threat has digital advertisers (justifiably) nervous. But now Google is striking back.
On February 15, Google officially launched their own ad blocker which is built into the mobile and desktop Chrome browser. This is a big deal because Chrome dominates current global browser usage at more than 56% (according to StatCounter).
How does it work?
Unlike popular apps like Adblocker Plus, Google's ad blocker doesn't remove all ads. It acts as more of a "filter," blocking only the most intrusive ad formats.
According to Google:
"These frustrating experiences can lead some people to block all ads—taking a big toll on the content creators, journalists, web developers and videographers who depend on ads to fund their content creation."
It's unlikely this update will lead users to uninstall their current ad blockers; however, Google hopes this will help to slow adoption rates by removing frustration from the online experience.
What types of ads are blocked?
Google is using the Better Ads Standards developed by the Coalition for Better Ads to determine what should be blocked. This includes the most disruptive and "annoying" ad types, like autoplay videos with sound, prestitials with a countdown timer, and websites cluttered with more than 30% ad density.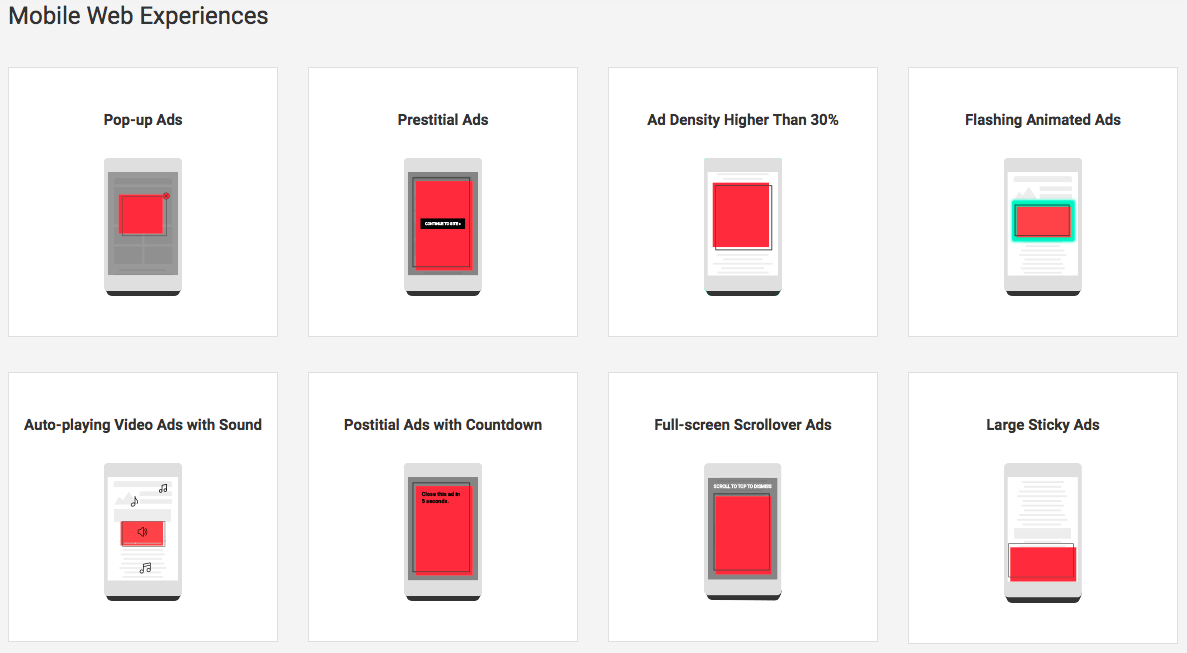 Source: Coalition for Better Ads Standards
Ads are blocked at the publisher level. If a publisher is violating any of the above standards, all ads on their site are at risk of being filtered – regardless of format, source or quality. This means that even ads running via AdSense or the Google Display Network could be blocked as collateral damage.
Publishers can see how Google has evaluated their website via the Ad Experiences Report made available last fall in Google's Search Console.
Should advertisers panic?
Short answer: Probably not.
Long answer: Any technology that prevents ads from being shown sounds bad. But according to Google, fewer than 1% of the 100,000 most popular website in North America violate their standards. This means you probably won't see a significant decline in inventory any time soon.
Even though publishers are the ones being targeted – not individual advertisers – this is an important warning to steer clear of any ad formats Google has deemed "intrusive." If you don't, there's a good chance you'll see throttled inventory as the ads are filtered and more publishers are encouraged to move away from offering these formats on their websites.
In the long run, Google hopes this will be a positive shift for advertisers, making users more accepting of (and responsive to) digital advertising.
Will this affect my paid search and social campaigns?
Right now, only display ads are affected. This means that search and social platform advertising (e.g., Facebook, Twitter, LinkedIn) is safe.
Also not targeted by these standards is native advertising. This isn't surprising though, as native is often touted as a less disruptive "solution" to a crowded digital advertising ecosystem.
So what do we do next?
As advertisers, we have a responsibility to hold publishers accountable. If you're worried that a publisher's website is in violation of Google's standards, ask to see their Ad Experiences Report.
Again, advertisers should have little to fear about this update as long as they monitor performance, avoid the identified ad formats and continue to prioritize quality ad experiences.
And who knows – maybe this really is the key to saving digital advertising as we know it.