By now, you are probably aware of the Product Catalog in Facebook Ads. If you haven't used it yet, you've at least seen it after viewing a product on an ecommerce site. I've seen dozens of these ads within minutes of looking at a product on Nordstrom!
While most of us understand dynamic ads and product catalogs on AdWords as dynamic remarketing, there are a lot of unique ways you can use the product feed on Facebook to target your ads.
Canvas Ads Using Product Feed
My favorite aspect of using the product feed on Facebook is canvas ads. We all know the world we live in is now mobile, and canvas ads are one of the best opportunities in this mobile first world.
Canvas ads (which you can read more about in a previous blog post by my co-worker Ray) are a mobile/tablet only ad format on Facebook. The ad looks similar to a desktop ad on the Facebook news feed, but it expands when clicked.
Canvas ads have many formats including video and lead gen, but today we are only talking product feed ads. The product feed format showcases the product feed instead of multiple images, allowing the user to shop directly from your marketing image.
Product Feed Canvas Ads allow you to choose specific products to show to the user. You can create product sets, which I've used to to showcase products in a marketing image. Or you can choose "All Products" which will choose the products shown dynamically.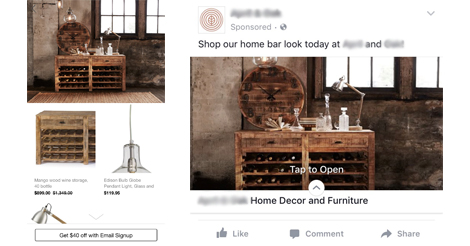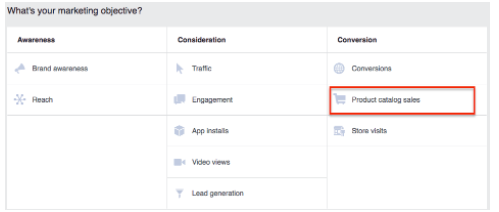 Product Catalog Sales (Dynamic Remarketing)
The bread and butter of Facebook Product Catalog Sales is dynamic ads.
 I'm sure I can say we are all well aware of this as you've been hit with them on your Facebook feed.
When choosing your campaign goal, selecting the "Product Catalog Sales" option gives you dynamic remarketing capabilities.
After selecting your marketing objective, you'll be fast forwarded to your ad sets. In the Product Catalog Sales, there are only a few options for audiences. As much as I love Facebook, this is the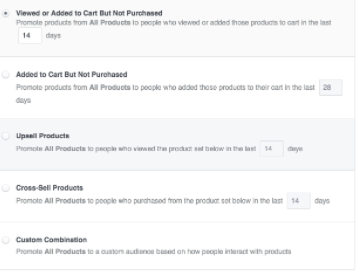 number one thing I hope they change. Product catalog sales should be everywhere – not just dynamic or canvas ad based (but that's for another day!)
Based on your conversion rate and abandoned cart-ers, you may choose to use one or all of these pre-defined audiences. I'm a big fan of creating multiple ad sets, using one audience for each and tiering bids based on the sale opportunity.
Once your ad sets are created, you get to the fun part – the ad! Product Catalog Sales has one ad format – product sales. Carousel allows you to showcase more products to the viewer, while the single image will only show one product. I usually stick with carousel for product catalogs, but select the option that is best for your campaign.
Now watch the wonder of product sales and dynamic ads on Facebook.