Many travel businesses have a love/hate relationship with online promotions.
Often, promotions can cause a hit to the bottom line – but, promotions leveraged with online advertising can help drive more revenue at a lower Client Acquisition Cost when compared to other channels.
In this article, we will examine the role that online promotions play through:
Increasing online booked revenue at a lower acquisition cost
Engaging with users who have already visited your website (Remarketing)
Using location specific promotions
More Revenue at Lower Client Acquisition Costs
Reason number one to run a promotion: To stay ahead of the competition. Why run a promotion when your business offers a better product than your competitors?
People browsing for tours, hotel stays, etc. are looking for the best product at the most competitive price. According to Phocuswright and Microsoft, 79% of all travelers price compared travel products before purchase.
It's extremely important to have a competitive price or offer available to your end client – even if your actual product is better than everyone else's.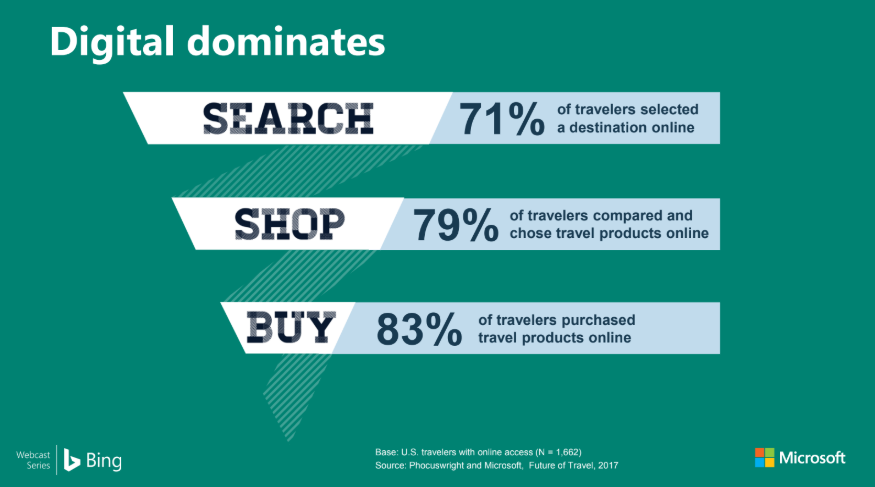 Promotions can be smart if client acquisition cost is lower than other channels. Businesses can typically afford a 10-20% discount when an online travel agency typically charges a commission that falls between 20-30%.
Proper Remarketing for Travel
Remarketing allows your business to position ads in front of a targeted audience that has previously visited your website. Typically, the highest yielding audiences are:
People already on vacation who are booking a tour/activity within 1-5 days
People planning a vacation who are planning to travel to your destination, typically withing 30-180 days.
Leveraging these audiences is extremely vital – ad copy and promotions will vary depending on what audience they fall within.
Location-Specific Promotions
Ads that are tailored to a person's individual location can give you an edge over the competition.
If a user is located in a location outside of your destination, you may want to adjust the ad so it seems more personalized to the person performing the search.
Example: Mary lives in Colorado and loves outdoor/adventurous activities. She is traveling to Cancun, Mexico in 6 months and wants to go snorkeling. Mary then searches for 'Snorkeling in Cancun.' Below are the search results Mary sees: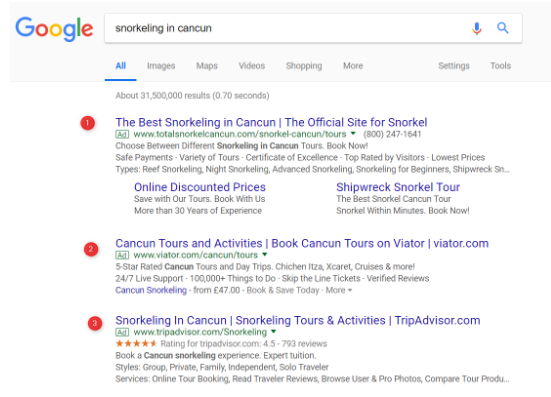 Some pretty compelling ads, but nothing overly compelling that is personalized to her search. What if Mary saw the following ad?
Something as simple as including, "<State> Residents Save <promo>" can provide an increase in CTR and drive more users to your website.
What could this strategy do for your business when applied at scale?
If you want to hear more about how online promotions can be leveraged for your business, we'd love to hear from you – just fill out the form below!