Facebook ads come in many shapes and sizes. It can be daunting to decide which ad formats to use and what creative to include. Here at Rocket Clicks, we have tested many of Facebook's ad formats, and have discovered several top performers for our travel clients.
In this post, we'll be sharing best practices for the types of Facebook ads you should utilize, as well as what creative will help convert lookers into bookers.
Canvas Ads
For many of our clients, canvas ads have proven to be top conversion drivers in Facebook.
These full screen ads are a combination of several elements: an image or video, a carousel of images, two description areas, and two custom CTA buttons. These ads are extremely versatile and allow you to showcase a variety of creative elements to grab the attention of your audience.
Canvas ads also open to your website as a user scrolls – when the user scrolls to the end of the canvas, your website automatically opens. This ad format was specifically designed for mobile use, which is increasingly where the majority of travel-related experiences are being booked.
We recommend using a video (15-60 seconds) as the main creative piece to entice the user to open the canvas and see more. The ability to include a carousel within the canvas also enables you to showcase more images. Always use experience-based images that will excite your customers. This is your opportunity to really show them what they will get by purchasing from you.
Since you can customize the CTA buttons, use this opportunity to speak directly to your audience. A good option is something like, "Book Your Unforgettable Experience Today." Use this option to go beyond the generic "Book Now" CTA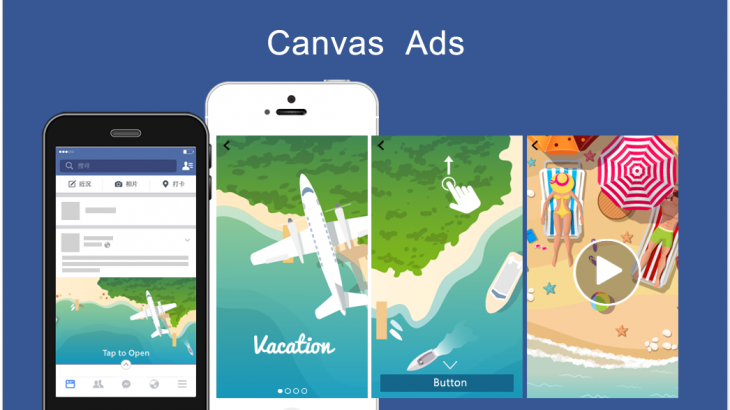 Source: http://ubiq.co/blog/facebook-canvas-ads-complete-guide-facebook-canvas-ads/
Carousel Ads
Carousel Ads are usually the next best converting ad format.
This ad allows you to showcase several images or videos in one ad, which users can then scroll through. Each card of the carousel gets its own headline and destination URL.
One fun way to engage users to scroll through the carousel is to take a panoramic image and break it into several cards, so the user can scroll through the carousel to see the whole image. This helps improve ad engagement rates and, therefore, improves your relevance score.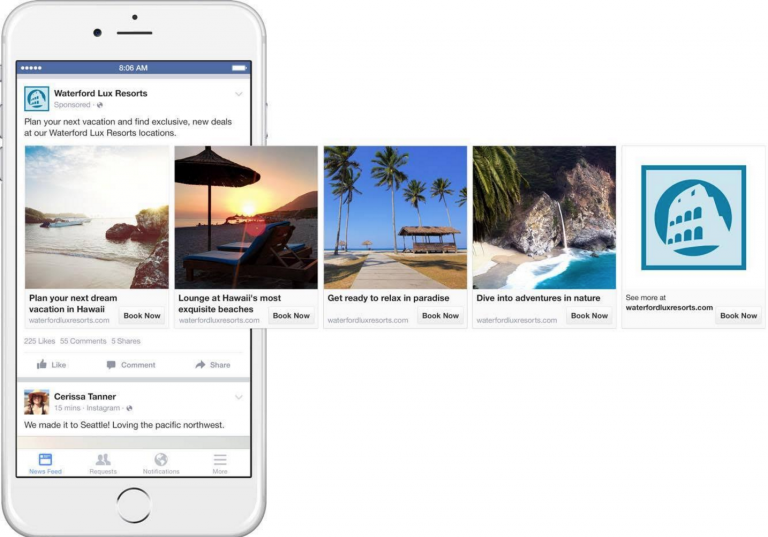 Source: Facebook
In-Stream Video Ads
If you have access to powerful and memorable video content, In-Stream Video Ads are a great option.
These are ads that show during other video content your audience is viewing on Facebook. These ads must be 5-15 seconds in length and only work with certain campaign objectives (reach, awareness, video views, and engagement).
The In-Stream Video Ad format is best for a fresh audience who hasn't yet been to your site. Regular newsfeed videos from 15-60 seconds can work well for remarketing audiences.
For all videos on Facebook, make sure you include your brand in the first 3 seconds of the video to ensure that it sticks with viewers. It's also a good idea to include the website URL with a CTA at the end of the video.
Keep in mind that the 20% text rule applies to videos just like images. If you include more than 20% text in your video frames, your ad could be disapproved.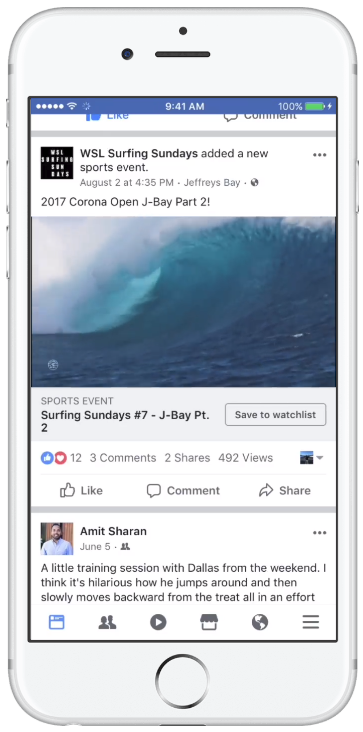 Source: Facebook
Overall, it's important to have high quality video and images for Facebook advertising to draw in your audience.
Use the copy in the ads to explain the experience and any benefits you can provide that your competitors can't.
Facebook can also be a great place to run a promotion for website visitors who didn't convert or cart abandoners to get them to come back and complete a purchase.
By using the right ad formats and creative, Facebook is a great tool to turn lookers into bookers.