8 Key Elements all the Best Product Landing Pages Include
Product landing page design can make or break an ecommerce business. A well-designed landing page with a strong user experience will build trust with consumers, drive conversions, and grow your business. Fall short of expectations, though, and you may find that key performance indicators will fall short as well.
Which is why some of the most successful ecommerce brands in the world have spent years perfecting their product landing pages. From minor tweaks and major additions to complete redesigns, brands are doing everything they can to improve product pages and meet customer needs.
Even with the constant changes and the ever-changing landscape, all the best product landing pages feature the same key elements. This column breaks down those crucial components and explains how and why you need to incorporate them in your landing page design to be successful.
1. High-Quality Images w/ Zoom
High-quality images are a key component to a product page that converts. Online shoppers take 50 milliseconds — just .05 seconds! — to form a first impression and the images you provide are oftentimes the first thing they see. You need to spark that initial intrigue to hook the user and keep them on the page.
Beyond just the first impression, images play a pivotal role in product research as well. Just like shoppers at a physical store, online shoppers want to examine each product before they make a purchase. They may not be able to touch and feel the quality, but if the retailer has high-quality photos with zoom, they can replace that process with a thorough visual inspection. Make sure you can satisfy their needs with several high-def images from multiple angles.
Furthermore, think about the ways your products are used and how to incorporate that into your photography. For example, if you sell products that can be worn, like shoes or a jacket, feature an image with somebody wearing the items to add a human touch. If you sell bedsheets and comforters, make sure to include images of the linens laid out on a bed to give the consumer a clear depiction of what they can expect when they add their brand new comforter to their bedroom.
2. Engaging Video
Video is another powerful visual tool that so many of the web's most successful ecommerce sites are using, and it's no wonder as to why. According to a study performed by Wyzowl, 76% of marketers said that video has helped them increase sales.
One great example of effective use of video on product landing pages is from one of the world's largest online shoe retailers, Zappos. This innovative company uses video on thousands of product sitewide – they're short, sweet and informative.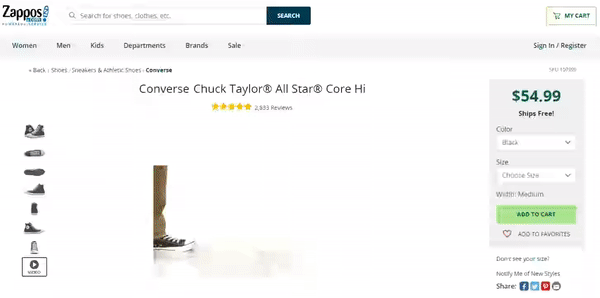 Videos like the one above help online shoppers make more informed purchasing decisions because they can see the product in use and the video adds a human element that static photography can't quite capture.
3. Social Proof with Product Reviews
Word of mouth is the single most powerful marketing tool. Consumers trust friends, family, and other consumers more than they trust brands, and online reviews tap into the power of social influence.
In fact, 70% of online shoppers read reviews before they make a purchase. That means the vast majority of your customers are seeking out brand advocacy from other consumers to inspire confidence.
Amazon is the best example of an ecommerce site that leverages customer reviews. A big part of their multi-billion dollar success is a great user experience complemented by insightful user-generated reviews. Their platform allows users to upload images, rate comments on helpfulness, sort by product characteristic mentions, as well as a few other features.
One other note, if you have concerns about negative reviews, there's a philosophy amongst digital marketing professionals that says you shouldn't. Matt Moog, CEO of PowerReviews, believes that "Negative reviews are essential to building consumer trust." A negative review – mixed in with other positive reviews – can actually increase credibility as it helps taper expectations and customers are less likely to believe the reviews are fake.
The important thing is that you enable reviews on product pages so users can start a conversation about your brand and create valuable social proof.
4. Clear Pricing & Shipping Rates
Clarity is key when trying to build a relationship with online shoppers, and the price of your products should never be a mystery.
Price is one of the most important factors consumers will consider prior to buying, and if it's hard to find – or they're surprised by service fees and high shipping rates in the checkout process – they may not complete the purchase.
In fact, the folks at Baymard reported that 55% of consumers (2,584 respondents) had abandoned an online purchase within the last three months because of extra costs at the end of the checkout process. Another 21% of users said they didn't complete their order because they couldn't see/calculate the total order cost up front.
Make sure that pricing, shipping rates, and any additional fees are clearly displayed up front on the product page to establish trust with the consumer and limit cart abandonment.
5. A Strong Call To Action
While it may seem like a no brainer, it would be a disservice not to mention how important it is to feature a clear, concise, and accessible CTA on every product page.
There are so many different ways to build out an effective call to action, but, for the most part, there are only a few key factors you need to consider when evaluating the CTAs on your product pages.
Placement – keep the CTA front and center to ensure users don't need to go on a rabbit hunt during such a critical step in the buying process.
Color – make sure the CTA piques the interest of the user and stands out from all other elements on your webpage.
Language – "Add To Cart," "Add To Bag," "Buy Now" – there are seemingly endless possibilities, but chances are one will be more effective than another on your site.
One note on these three factors – finding the right combination for your landing page design that will drive the most conversions will almost certainly require a bit of testing, but it's worth it. A powerful CTA can have a significant impact on conversion rate and overall performance.
6. Insightful Product Descriptions
Product research is such a crucial stage in the buyer's journey and consumers look to descriptions for information. It's even been reported that 95% of shoppers believe product descriptions were important when purchasing online.
Consumers place a lot of value in product descriptions and you can capitalize on that with unique descriptions that speak to your audience, answer common questions, and tell a story.
To add on to that, the description is your opportunity to sell the product and show the customer how it will add value to his or her life. Just make sure that when you write the description that you're focusing on the benefits customers care most about to keep them engaged.
7. SEO Best Practices
When designing the best product landing page possible, you can't forget about SEO. After all, if nobody can find your products, all the other on-page elements won't help you meet your bottom line.
Make sure you cover the product page SEO basics like a keyword focused title tag, H1 tag, and product description. It may not seem like much, but these three essential elements will take you a long way in improving organic visibility and driving traffic to your site.
8. Schema Markup
Schema (aka structured data) is another valuable SEO feature you can add to every product page. In sum, Schema markup is a vocabulary of tags added to site HTML that provides a concise snapshot of page details that allows search engines to effectively crawl and index your page.
More specifically, Product Schema details crucial product identifiers and specs like brand, color, aggregate ratings (reviews), category, and much more. This markup will give you the chance to feature detailed product information in Google search results, including rich results and featured snippets.