Search engines are changing. If you've spent much time around internet marketing, this probably doesn't come as shock to your system. Since the beginning of the "internet age" search engines have been tweaking their algorithms in an attempt to understand the intent behind what users are searching for.
One such finding is that one of the primary ways people use their service is to find local businesses.
Google reports that 50% of people who did a local search on their phone went to a physical store within one day.
What does this mean for businesses?
Any business that sells products or services to only a specific area needs the power of local search to be found by potential customers.
Not only has Google's focus on local search changed how people find your business, it has also changed who your competitors are.
In order for your local business or multi-location business to thrive, you need to know what makes your local competitors unique, how to identify your competitors and what to do with this information.
What Makes Local Competitors Different?
Like any smart company, you probably have a pretty good idea who your competitors are. However, your competitors in local search may not be exactly who you think.
Let's try it. Grab a scrap of paper and write down who you think your top 5 competitors are, then keep reading.
Local online competitors are different than your standard because they vary by location. If you're operating a business with multiple locations, not only are you competing with other multi-location businesses., you're also competing with single location business and even larger companies in each location.
Example:

If you operate a small burger chain in Texas, you have a variety of competitors. In large cities like Houston, you're competing with other medium chains, the big brands like McDonalds, and the mom and pop shops that only exist in Dallas. In smaller markets, like Waco, you may have completely different competitors and need different strategies to compete online.

Alternatively, if you're operating out of a single location but want to compete in a large area (i.e. a lawyer serving two cities like Milwaukee and Madison), you'll need a unique strategy for each metropolitan area since you only physically occupy one market.
3 Steps to Identifying Your Local Competitors
Countless tools are available to identify your local online competitors; however, there are three simple and FREE steps you can take before you start shelling out cash on new online marketing tools.
Step 1: Identify Your Top Non-branded Keywords
Search marketing is still largely dependent on keywords. If you want to grow your business, you'll need to reach people online who've never heard of your company before. This is accomplished through "non-branded keywords."
Branded vs Non-Branded Keywords
Branded keywords are any search queries that include all or part of your brand name. (i.e. "Bob's Discount Furniture near me")
Non-Branded keywords are any search queries you want your business to appear for that do not include your brand name. (i.e. "second-hand furniture store")
Think about the top services or products your business offers. It's likely that your competitors are targeting these same things.
Example:

First Klass Window Cleaning

Top Keyword Targets:

window washing service
window washing company
residential window cleaning
business window cleaning
Step 2: Check Top Organic Results & Paid Ads
Now that you've identified your top keyword targets, it's time to check the search results.
In the early days of internet marketing, this step was pretty simple. In today's localized search landscape, however, this process is a little more complicated—especially for multi-location businesses. This is because search engines are going to surface different results based on your specific location.
The easiest way make sure you're able to see your site ranking compared to your local competitors is through a local search tool like WhiteSpark or BrightLocal.
Alternatively, if you don't want to pay for a local SEO tool, you can trick your browser into changing your location using a hack like this one.
Using your new tool or location hack, test your top 5 keywords in each market and identify the competitors that appear in both the ads and the organic listings. You're probably going to see a lot of "Map Pack" listings and Map Ads (as shown below). Make sure to include these competitors in your research.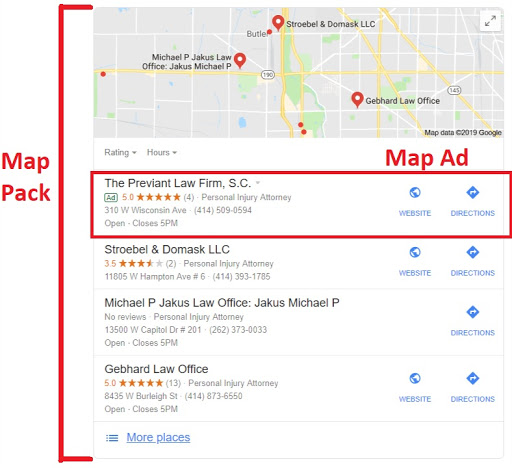 Step 3: Check Your Google My Business Listing
Finally, an easy way to see who Google thinks your competitors are is through your Google My Business Listing. Search for your brand name and look at the bottom of the "knowledge panel" that appears on the left side of the search results page.
In many cases, it will show a "People also search for" section that will list businesses similar to yours in the surrounding area.
Now that you've followed these three steps, check the results against the list of competitors you created earlier. You've probably identified some competitors you didn't expect.
3 Things You Can Learn from Your Competitors' Online Presence
You can learn a lot about the market of each locality that your business operates in by the online presence of your local competitors.
Three of the most important things you can learn from your competitors are:
the maturity of each market
the most important keywords in each market
the strategies that are working best in each market
Identify the Market's Maturity Level
To understand each market your business operates in, it can be helpful to classify each market as "emerging" or "mature."
Emerging markets in this instance are defined as any space with few online competitors and relatively simple search results. Below is an example of a search results page for an emerging market vs. a mature market.
Notice that the search results page on the left has only has one "feature" – a couple ads.
Search engines are still learning what a "vffs bagger" is and how consumers or businesses shop for one. Competition isn't as fierce in this market, so it's easier to compete just by creating a compelling listing.
The mature market side of the screenshot has feature-rich search results with a high level of competition. Notice that the search results page above on the right has a ton of features, including ads, a shopping feed, and a map pack of local businesses. Many of the listings also have reviews stars next to them. Competing in this space is going to require more compelling content, higher domain authority, and likely some advertising money if you want to get your listing to the very top of the page.
Identify Important Keywords
Use your important keywords to learn your competitors keywords. Plenty of tools like SEMRush and SpyFu are available to help you identify your competitors most important keywords, but a lot of what you need can be found right on your competitors website.
Example:

If you want to compete with First Klass Window Cleaning, all you have to do is check out the keywords used in the title tag of their important web pages.

With their website open in your browser, hover over the top of the tab.

Their title tag is: Home Window Cleaning Milwaukee | Residential Cleaning for Windows Services Waukesha | Commercial Washing for Windows Service West Allis | Residential Cleaning for Windows Companies Greenfield | Washing Windows for Businesses Waukesha| First Klass Window Cleaning West Allis, Wisconsin
Now you'll have a nice list of keywords to analyze. Now you can start incorporating your competitors non-branded keywords into your content strategy.
Calls to Action (CTAs)
The best calls to action are not necessarily the most clever phrases—they're the ones that convert!
Learn what CTA's work for your business by testing your current CTA's and evaluating the ones your competitors are using. You can test CTAs informally or run a more diligent A/B test with a tool like Google Optimize.
If all your competitors are enticing customers with a CTA like "Get a Free Quote" and you're website just says "Contact Us," it's probably time to try something new.

Now that you have successfully found out who your real competitors are and learned from what they are doing right and wrong, you have everything you need to start competing in local search.