Now available to over 1 million advertisers, AdWords Next is the new "AdWords Experience." Google redesigned AdWords to eliminate clutter, improve reporting and make it easier to perform core tasks. The new AdWords UI was announced in early 2016 and has been slowly rolling out to advertisers ever since, expected to be available to all advertisers by the end of the year.
At SMX Advanced in Seattle, Google's Jerry Dischler addressed the new AdWords interface during his keynote conversation saying, "it's 20% faster," adding "we wanted to be able to build a platform that on top of it we could build assistive flows to make it easier to do core tasks." After using the new interface for a little over a month, I agree that they cleaned up the design; it's blazing fast, intuitive and filled with time-saving data visualizations.
Here are my top 7 features from the new interface.
Overview Dashboard
Need quick insights to report campaign performance to your boss or clients? Look no further than the overview tab.
Click on the Overview tab to see a plethora of reports, including performance over time, biggest changes, best performing ads, device breakdown, locations, ad schedule and more. These intuitive insights are all presented in easy to understand data visualizations and can save you hours by surfacing trends without you needing to dig deep into your dimensions, exporting reports and merging your data with Excel.
Data Visualization
AdWords went all-in on improving data visualization in their new interface. From the overview tab to your change history, you will find helpful images to make sense of your data.
These data visualizations will help you save time when uncovering trends, allowing you to spend less time analyzing data and more time working on strategy and executing account optimizations.
If you're like me and can't get enough of these data visualizations, we've got good news: When asked about the data visualizations, during the SMX Advanced Keynote in Seattle, Jerry Dischler said, "We want to do so much more of that … to offer a better experience and make it easier for people to do their jobs."
Keyboard Shortcuts
If the 20% faster interface and smoother transitions between pages aren't enough, you can use keyboard shortcuts to get around the new interface even faster. Just hold shift + ? to pull up a list of keyboard shortcuts you can use.
My favorite is the "search for page" shortcut: simply press G then T, and a search bar will pop up. Then, just type in the page or report you're looking for. This is extremely helpful when getting used to navigating the new interface.

Advanced Bid Adjustments – Call Bid Adjustments
Working my way through the new AdWords interface, I noticed a tab called Advanced Bid Adjustments where you can apply bid adjustments to certain interactions. Only call interactions are available right now, but expect more to come.
We asked Google if they could tell us how this bid adjustment works and when our ads would be affected:
"This feature allows advertisers to bid up or down on clicks when a call option is shown- this includes call extensions and call-only ads. This feature is only available in AdWords Next. To manage call interaction bid modifiers in AdWords Next, select 'Advanced bid adj.' in the left-hand panel. See bid adjustments with the interaction type Calls."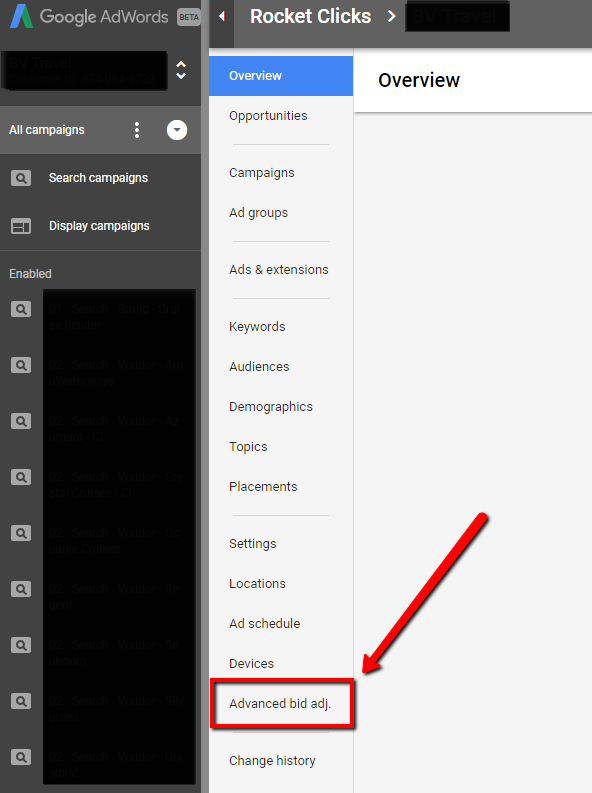 Promotion Extensions
Promotion extensions add a line of promotional information to your ad. They must be specific to a discount or offer (money off or percent off) and advertisers have the ability to also display promo codes, dates or other qualifiers. 
Promotion extensions were in beta in the old AdWords, and we were testing it in several accounts with great results. With the new interface, promotion extensions are here to stay, as they are now available as a regular ad extension. Find promotion extensions listed among the other extensions in the "Ads & Extensions" tab.
More Demographic Targeting Options
Recently, Google introduced demographic targeting for search ads, allowing advertisers to optimize their targeting in search by adjusting bids based on gender and age. Google doubled-down on their demographic targeting in the new AdWords experience by adding household income and parental status as targeting options in search campaigns.

Ad Extension Previews
Ever wonder how an ad extension would look on your ad or needed to show a client what an extension might look like on an ad? The new interface has you covered.
Now when creating new ad extensions, it will preview your ad with the new extension. It will show you both a mobile and desktop preview, making it easier to see how your extensions will jive with your ads.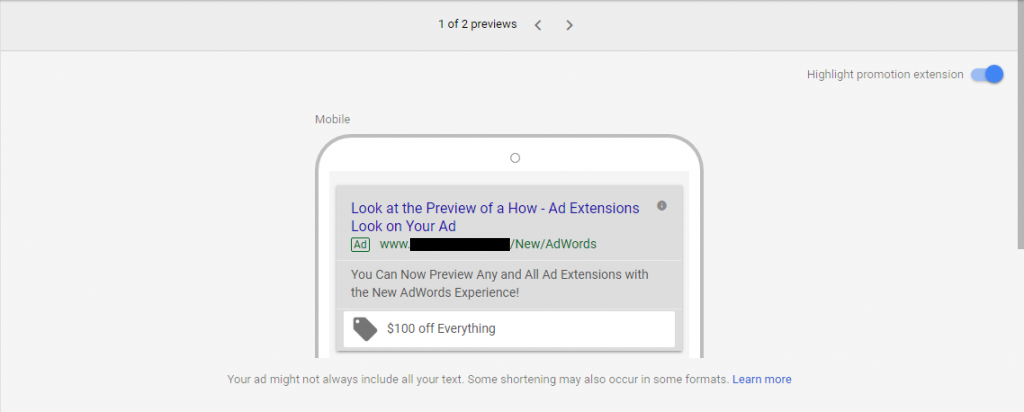 These were just some of the top features from the New AdWords Experience. Honorable mentions go out to improved filtering options, better time-period navigation and the ability to adjust the size of your columns.
This is still just in beta and there are several functions, such as dynamic search ads, that are still missing. Despite the missing functions, we've already seen additions coming to the new interface every few weeks, and we expect Google to make it even better (and fully functional) by the time it is available to everyone.
Not sure if you're ready to switch to the new interface yet? Watch Google's Introduction to the New AdWords Experience for a walkthrough on all the tools and tips to get more done faster in with the new AdWords interface.
If you can't find something in the new AdWords experience, you can always switch back to the previous AdWords… for now.