As an agency, we work with a variety of clients – each with their own specific needs for display ad creatives.
Sometimes the client doesn't have the ability to produce images on their own. Even if they do have an internal image team team, creating all those different image ad sizes manually can be very time consuming. We also typically want to test at least two versions of each ad, often doubling production time!
Enter Google Responsive Ads.
The key benefit of responsive display ads is they allow for more sizes and formats to be generated with less time. More ad sizes lead to more available impressions and conversion opportunities on the Google Display Network (GDN).
Are Responsive Image Ads Effective?
We tested Responsive Ad sets against traditional image ad sizes at the same time for one of our top ecommerce clients.
After 14 days of data, early results yielded a statistically significant lift in click-through rate (CTR) with a lower average cost-per-click (Avg. CPC). Early results also showed an 8x higher volume of impressions and over 11x more clicks – a clear indicator that responsive ads offer increased delivery.
Responsive vs. Traditional GDN Ad Type Performance – Last 14 Days
| Ad Type | Impressions | Clicks | CTR | Spend | Avg. CPC |
| --- | --- | --- | --- | --- | --- |
| Responsive | 89,142 | 181 | 0.20% | $196.10 | $1.08 |
| Traditional | 11,610 | 15 | 0.13% | $17.84 | $1.19 |
To get started with responsive ads, you only need the following items:
A landscape image of 1.91:1 ratio with overall dimensions of 600 x 314
A square image of 1:1 ratio with overall dimensions of 300×300
A high definition square logo (128 x 128)

Optionally, a (4:1) logo with recommended dimensions of 1200 x 300

Ensure the file size limit for each of the three above images is 1 MB
You must also meet the following text requirements:
A short headline (25 characters or less) to fit in small spaces where the long headline doesn't fit
A long headline (90 characters of less).

Traditionally the long headline will fit in more places, but be sure to review what it looks like in all ad formats so that nothing is getting cut off

A description line (90 characters or less) that may appear after a short or long headline

Similar to the long headline, make sure this text isn't getting cut off as well
Below is an example of a series of Responsive Ads created for a graphic design studio client (courtesy of YouTube.com):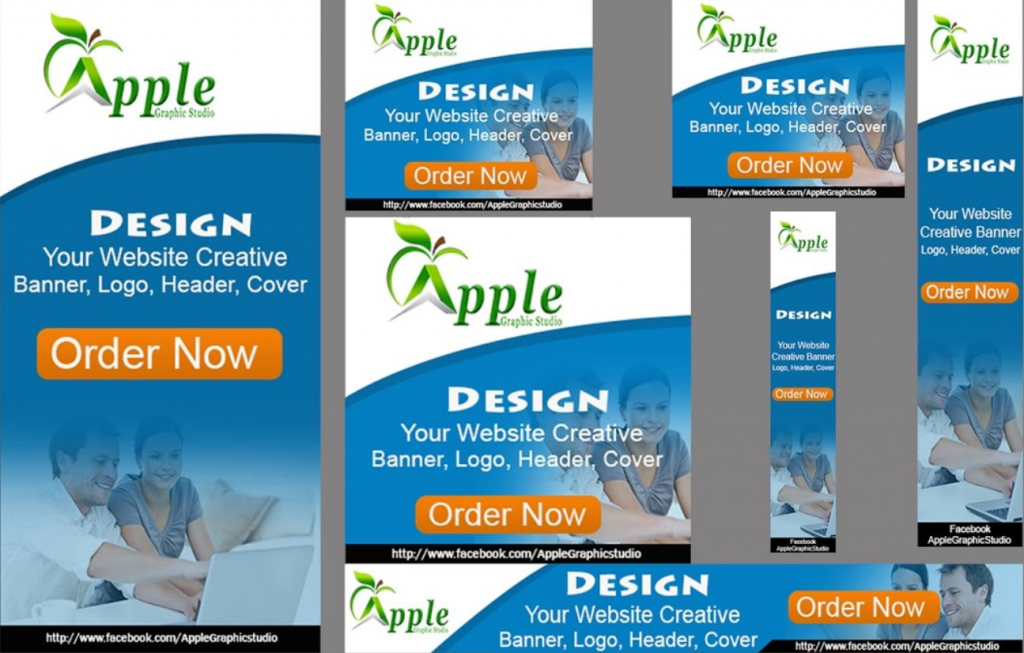 Other notes and recommendations to consider include:
While you can write up to 25, 90, and 90 characters for each headline respectively, we recommend not hitting these limits across the board for all of your ads. Maximizing your characters limits causes ads to appear text-heavy and overly cluttered.
Similar to text ads, review the images in all ad sizes and formats to make sure they aren't being cropped or cut off incorrectly. It's important to make sure the square images are displaying properly across all ad sizes, especially for non-ecommerce adds where a key part of the image might be cut off.
In addition, since responsive ads also now fit into text ad spaces on websites, AdWords no longer provides opportunities to run text ads on the GDN. Again, in this way AdWords has provided another opportunity to create ads with very minimal creation time.
Dynamic Responsive Ads
You can also use a similar Responsive Ad format combined with a product feed linked to your account to create and run Dynamic Responsive Ads.
These ads are created to help enhance remarketing efforts to show previously viewed products to customers using the Responsive Ad formats to further ease the creation and implementation of dynamic remarketing ads.
When creating Dynamic Responsive Ads and linking them to your feed, it's important to note that ads may not always use images from your feed. This is because responsive ads show more sizes than dynamic feed images can fit.
With a summary of what Responsive Ads can offer compared to manually created image ads along with some data on delivery and CTR improvement, it's time to expand your brand presence by testing your own Responsive Ad formats on the Google Display Network.