Digital marketing may seem like a nebula of endeavors with strategies that rely on "IT depends" and "what ifs," but the reality is: you don't have to pigeonhole your business into just one digital marketing strategy. There are strategies that cater to your business's immediate and long-term goals, that even fold into your ongoing marketing efforts to build on existing momentum. These strategies include paid or pay-per-click (PPC) advertising.
In short, PPC is an effective, fast-paced marketing strategy to improve visibility and boost conversion rates. While this strategy isn't the only one you should be looking towards for digital marketing, it does provide your business ample opportunity to meet your marketing goals.
Wondering if paid advertising is right for you? Let's take a look at some tell-tale signs your business needs some paid oomph:
1. Poor Placement in Organic Search Results
Here's a hard truth: #1 organic search result isn't always first in search result pages (SERPs). So what does poor placement even mean these days?
Even if you're #1 in organic search results, this doesn't necessarily translate directly to conversions and profit. If your organic search efforts have placed you on the first page, you're still competing with additional, untapped sections of SERPs.
Paid Ads
The quickest way to the top. Placement depends on keyword relevancy, competitive bid strategy, and audience targeting.
"Map Pack" or Local Results
Local intent = map pack. Placement depends on user proximity to businesses Google defines as relevant to search.
Organic Results
Hardest placement to earn. Placement depends on how authoritative Google finds your content and query-fulfilment, relevancy.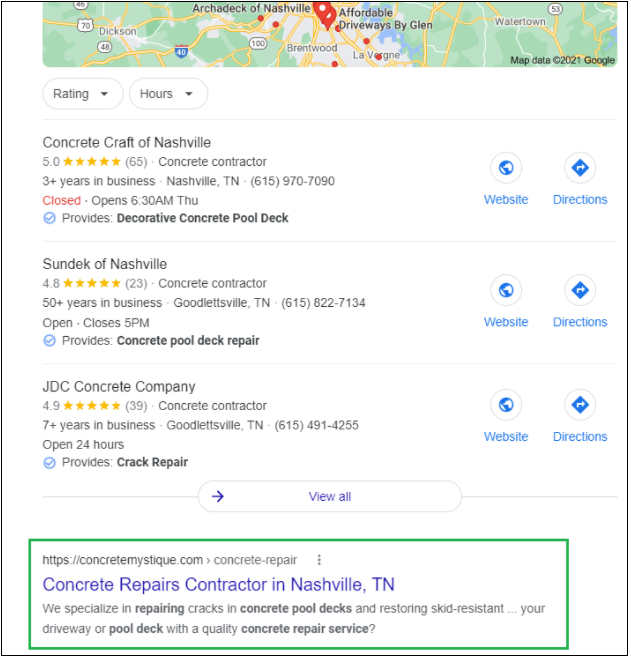 Whether you're struggling to rank within the top 50 or not seeing enough click-through on your #1 organic search result, paid advertising can help. PPC allows you to target those keywords you're struggling to rank for organically and garner real estate at the top of the search page, providing you with a source of traffic and better opportunity for conversions.
This means you can jump the line from "poor placement", wherever that is, to at the top of pages, directly in front of consumers.
2. You Need To Push A Product Or Service ASAP
You're offering an exciting new product or service and it's time to get the word out there. Problem? Search engine optimization (SEO) marketing is a constant effort that is slow to see initial results. If you're excited about what your business is offering or want to capitalize on seasonal economic changes, then it's time to look at paid advertising efforts.
One of the biggest benefits of paid advertising is its ability to jump the line quickly. This is great for pushing products with a limited timeframe (cough, cough holiday shopping) or promoting new products and services directly in front of consumers. And, unlike with organic results, you have direct control over which pages your PPC ads point to, meaning you can advertise directly for your new offerings. Google shopping ads and PLAs are great routes to explore when promoting new or seasonal products.
3. A Competitor Has Taken Out An Ad For Your Name
Competitors can bid on your brand as a keyword in paid advertising campaigns, which allows their ads to show up for your name across multiple channels.
Let's see what this looks like:
While this means your business is gaining traction in the eyes of other businesses, it also means it's time to up your marketing strategy to remain competitive. While you can't remove competitor ads for your brand name, you can bid on your own brand name which ensures your site is placed higher. You can even take that a step farther and bid on their brand name to start funneling traffic from their site to yours – but let's not get ahead of ourselves.
You've invested ample budget and time into your organic marketing efforts in getting that #1 position for your brand name, don't let some other business sweep the rug from under you.
4. You're Competing Against Established, Well-Known Brands
You're the new kid on the block, whether a new business or just new to the digital landscape, and you're up against big names with long, established digital footprints. That's nothing to scoff at – Google needs to learn to trust your site, and until then you're buried in big box store names and cheap imports. This is where paid advertising campaigns can help.
Paid advertising gives your business prime real estate in search results pages that places your brand, your business, consistently in front of consumers. Consumers who see your brand regularly placed for relevant niche searches are more likely to remember your products and services when it comes time to make that final purchase. Display and search advertising gives you the opportunity to capitalize on this real estate without breaking the bank.
Bonus Sign: Your Current Campaigns are Not Showing Results (Yet)
Your organic search strategies have been meticulously strategized and implemented to perfection, now it's time to wait for those results. But how long will that really be? Some businesses competing against hundreds of other, long-established companies are left waiting until Google finds the value in their website before they begin profiting on their investments. Paid advertising strategies could bridge the gap between pushing organic marketing efforts and finally seeing the results of those efforts (hint: it could take a while.)
Including paid search in your media campaigns ensures your business is present at every engagement point along the customer journey, present in search results pages long before Google recognizes your website as credible and relevant to high-volume search queries.
Time to Invest in Your Marketing Efforts
It's almost too easy to lose hundreds, if not thousands, of dollars in paid advertising investments if you don't know how to play the competition or properly analyze campaigns' short-term and long-term successes (and failures).
That's where an expert comes in. Better yet, a team of experts fully prepared to establish, analyze, and measure paid ad efforts across all channels. At Rocket Clicks, you get that and then some. Ready to see what paid ads can do for your website? Get in touch!