This Week's Industry News
Compiled by the Rocket Clicks Team
Top Stories
Google My Business Adds Custom URL Option
Google My Business is starting to roll out the option of creating a custom URL to make it easier for customers to get to a GMB profile. It's only available to select users right now, but it's expected to eventually be available for all verified businesses. The custom URLs are called "short names" and can be accessed directly by going to "g.page/[yourcustomname]". If users want to promote their business's reviews, adding /review/ to the end of the URL will bring visitors directly to the reviews section of the profile.
Photo Courtesy of Ben Fisher
Sign in to Google My Business.
Select the location you want to create a short name for.
From the menu, select Info > Add profile short name.
Enter your desired short name (up to 32 characters) – if it's not available, you'll receive an error message.
Click Apply. It will show as pending and appear on your Business Profile when it's confirmed.
Short names can be changed up to three times per year, but keep in mind there's no guarantee your previous names will be available if you decide to edit them. Users will also have the option to delete their short name altogether.
Sources: Search Engine Journal
Facebook Ads Manager Gets an Upgrade
Starting on Tuesday, Facebook began rolling out a design refresh to its Ads Manager, with more simplified navigation features, cleaner interface and an updated campaign management experience. The platform includes a new navigation bar to offer more space for managing campaigns and highlights ad performance and reporting tools. Advertisers also have a new copy and paste feature for building ads, and an auto-naming feature designed to help advertisers quickly customize campaigns, ad set and ad names. Facebook said it plans to launch "more intuitive" ad-level creative and placement editing tools, but they may not be available for all advertisers until next year. For agencies managing client accounts, Facebook plans to update its Business Manger platform later this year. The updates will include an easier way to on-board new clients within the system, enhanced management features for clients' historical reports and a new way to organize assets and make them accessible to approved users.
Source: Marketing Land
Google Introduces Signed Exchanges to Display AMP Pages from Publisher's Domain
Instant-loading AMP pages in Google Search results can now link to signed exchanges, which will allow for the publisher's domain to be displayed when the content is loaded. A signed exchange is a file format, supported in most modern browsers, that allows the browser to trust a document as if it belongs to your origin. Before signed exchanges, AMP page URLs were displayed as google.com/amp.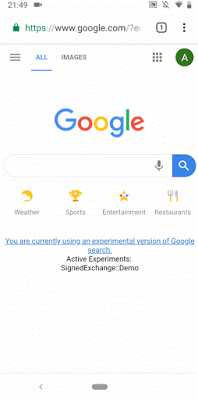 Photo Courtesy of Google Webmaster Central Blog
Signed exchanges enable Google to show the content's original URL while still retaining AMP instant loading capabilities. This new feature allows the creator to use first-party cookies and storage to customize content and makes analytics integration easier.
Publishers interested in using this feature will need to publish a signed exchange version of the content as well as a non-signed exchange version.
Source: Google Webmaster Central Blog
New Cost Cap Bidding Available in Facebook
Facebook is introducing a new bid strategy for advertising which is focused on driving results while keeping costs down. Bid strategies for Facebook ads were previously focused on maximizing conversion volume (bid cap) or cost predictability (target cost). To help businesses better reach certain goals, Facebook will offer a bidding strategy that combines both of the previous offerings. Cost cap bidding is different from other cost-optimized bidding strategies because it allows advertisers to set the max CPA they're willing to pay. When it rolls out, cost cap bidding will be accessed through an updated, guided bid experience. Unfortunately, there is no date currently set for when cost cap bidding will be available. Facebook says it's rolling out to advertisers throughout the year.
*Image provided by Search Engine Journal
Source: Search Engine Journal
Analysis:
3 Interesting Facts About Google My Business Listings
We're all familiar with how Google My Business allows businesses and organizations to manage their online presence through both Search and Maps. However, there are some quirks about the tool that aren't exactly common knowledge. Here's a few of our favorites:
Google relies on both humans and machines to review edits – If a user submits an edit to a Google My Business listing, they'll receive a notification within 5-10 minutes on whether the edit was published, denied or is pending. If it's approved or denied, this was processed by a machine. If it's pending, users will likely wait 8-12 weeks before someone at Google manually reviews the edit and either approves or denies it.
Those with higher Local Guide levels don't necessarily have more editing power – Local Guide points are earned in a variety of ways such as leaving reviews, adding photos, submitting edits, and answering questions. However, if all a Local Guide is doing is posting reviews to reach a higher level, Google won't automatically grant them unlimited editing powers. The only way to positively impact your trust with Google is by submitting edits and having them approved and implemented.
If a listing is verified in Google My Business, it's nearly impossible to change it – Users have noticed over time that it's become increasingly difficult to successfully get a change published on a listing if it's verified in Google My Business. Google's trust used to lean toward the user if a listing was reported as fake. However, over time, Google's trust has shifted to the actual listing and if it's verified or not versus the user and how trustworthy their suggestion is.
Source: Sterling Sky
How to Make Google Search Partners Work for You
Brand & RLSA Campaigns – Many advertisers max out their brand campaigns in search if they have the budget. Use search partner network to drive some additional volume for those searches. Also, don't forget about your RLSA campaigns. Remarketing is a great way to test search partner network without as much risk.
Review Keyword Performance – Segment your keyword list by search network to easily see which keywords are doing well on search partners and which are spending money without return or converting at a higher than acceptable cost.
Segment Your Campaigns by Device – if search partners are performing well on one device and not the other, consider segmenting your campaigns out and keeping only certain devices opted into search partners.