Facebook is an extremely powerful advertising platform because it offers a vast array of targeting options that enable you to advertise to your exact target audience. With all the targeting options, how do you know you've chosen the right audience to grow your business and achieve your goals?
Facebook's Audience Insights is the answer.
This tool gives valuable insights into which demographic identifiers make up your current customers. By pinpointing your customers' common traits, you can use Facebook's in-depth targeting options to gain new customers without depleting your budget on too broad of an audience.
Create Your Base Audience
To create audiences, go to the "Audiences" tab under "Assets" in the main menu of Facebook Ads Manager.
To utilize Audience Insights, you must first have audiences created on Facebook. There are several different types of Custom Audiences that can be created, such as customer lists from a file as well as lists based on actions tracked online such as website traffic, app activity, and Facebook Page engagement. Facebook will match your list to real Facebook profiles, which is how they can track the demographic data.
You want to choose a base audience that best suits your objectives.
If you want to grow brand recognition, choose an audience of website visitors or people who have liked your Facebook Page. If your goal is to sell a product, choose an audience of previous purchasers.
Discover What Makes Your Audience Unique
Audience Insights can be found under the "Plan" section in the Ads Manager menu.
Audience Insights provides data on the demographic makeup of an audience and how that compares to the general Facebook audience overall. This will help pinpoint exactly what's unique about your audience.
You will be able to see data on many different aspects of the audience, including:
Age
Gender
Relationship status
Job titles
Pages they like
Geographic location
Household income
Spending behavior
Online purchase behavior
and much more!
How About an Example?
In this sample of website visitors, we can see that this audience is predominantly men aged 45 and up.
We can also see that there is a higher percentage of users in this audience that are aged 55 and up, compared to the overall Facebook population. (The overall Facebook population is indicated in the gray boxes, whereas our audience is indicated in the blue boxes.)
From the data, we can also see that this audience is predominately people who are married: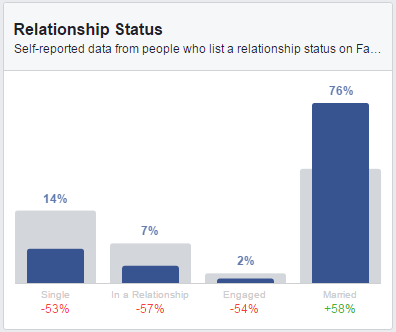 Facebook also offers a category called Lifestyle which combines information on purchase behavior, brand affinity, and other tracked activity into defined categories.
These Lifestyles cannot be specifically targeted with an ad, but you can use them to gain insights into your target audience. By clicking on the "i" button next to the Lifestyle name, you can see the definition Facebook uses for that audience.
The sample audience is largely part of the Lifestyle called Established Elite, which represents people with the highest income in the U.S. and no school-aged children at home. The sample audience has a much higher percentage of this Lifestyle than the average overall Facebook audience, as seen in the "Compare" column. 
Grow Your Business with Laser Targeted Ads
Armed with the data we've collected from Audience Insights, we can now create an ad campaign targeting our ideal audience:
Men, aged 45 and up
Relationship status of married
High income
In addition to demographic targeting, you can also layer on interest targeting that matches your product or service, making an even more optimal target audience. Keep in mind, however, that an audience must have a reach of at least 1,000 users to effectively run ads on Facebook.
Equipped with the demographic data of your ideal target audience, you can now reach out to a new group of prospects and turn them into customers.