Have you ever been in a position where you needed to create a new campaign in Bing, even though everything was already built out in Google?
Copying and rewriting every keyword, ad, URL etc. can get tedious and, well, downright boring. Thankfully there is an easy way to automate this task, and I will give you a step-by-step guide on how to import your Google AdWords campaigns into Bing.
First, you will need the Bing Ads Editor to start the process. If you don't have Bing Ads Editor you can download it to your computer.
Step 1: Open the account you wish to import the Google campaign to and select the import button at the top of the Bing Ads Editor. Click import from Google in the drop-down menu.

Step 2: If you are not signed in to AdWords, the Bing editor will ask you to sign into Google. It will want access to three things:
Know who you are on Google
Verify email address 
Manage you AdWords campaigns

Hit Allow and a code should appear, type this into the box asking for the code in the Bing editor. This is done just to verify your account. Click next.
Step 3: A list of AdWords accounts will come up. If you deal with multiple clients, select the company you wish to import a campaign from and click next.
Step 4: Once you have selected the account, a list of campaigns within the Google account with show up. Select only the campaign you wish to import from Google and click next. If you are looking to import multiple campaigns, check the box next to each campaign you wish to bring over to Bing.
Step 5: Once you have selected the campaign make sure that the "Import new items" box is checked and click next. This will transfer everything that is in your current AdWords campaign over to Bing. Keep everything else unchecked.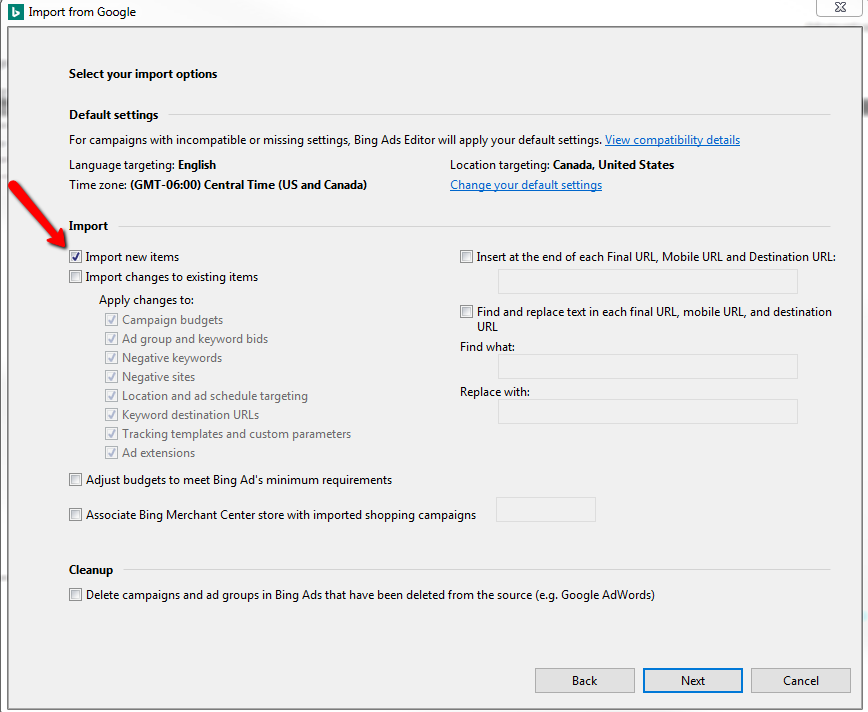 It may take a couple of minutes for everything to import over from Google depending on how much is being imported.
Step 6: The window below will show up, letting you know what has been imported from Google. There will likely be some instances where Bing may not be able to bring over exactly everything, since there are still differences between the two editors. Most ads, however, should import without a problem.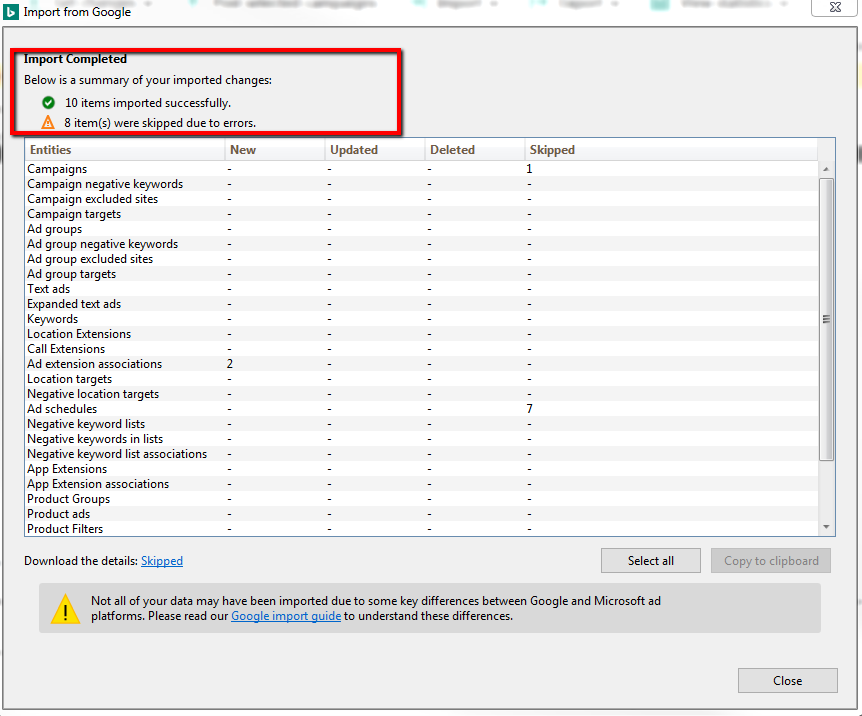 Now that everything is brought over, you may need to clean up some errors in the Bing editor but, otherwise, everything is complete.
Trust me when I say this saves a ton of time instead of filling everything out manually, I can't tell you how many times I had to build one campaign in Google, then in Bing.
Hope this article helped!