Social media advertising – specifically on Facebook and Instagram – is a great way to increase website traffic and purchases throughout the holiday season, since each platform has a billion or more daily active users. According to Facebook's 2018 Holiday Study, 55% of US shoppers said Facebook would influence their holiday shopping; 42% of US shoppers said Instagram would influence their holiday shopping.
As we head into November, now is the time to start making the holiday push. To that end, here are the 6 tips to optimize your ad performance and social media strategy throughout the holiday season (and beyond).
1. Create an "Instant Experience"
An Instant Experience, formerly known as a Canvas Ad, is a full-screen, mobile optimized experience designed to capture the attention of your audience and increase engagement.
When a user clicks on an ad, it opens the Instant Experience, rather than taking the user directly to the landing page. Users can then interact with the Instant Experience, which can include multiple images, videos, headlines and descriptions. One of the main benefits of an Instant Experience is that you are able to customize the text within the call to action buttons.
As a user scrolls down, they will automatically be taken to the landing page as they hit the bottom of the Instant Experience page.
Instant Experiences can be built using templates provided by Facebook. You simply edit the text and input your own creative assets. Templates can be used to create digital storefronts, lead forms, lookbooks or customer acquisition experiences.
You can add an Instant Experience to any ad type.
2. Try the New "Video Creation Kit"
Facebook generates an average of 8 billion video views per day. According to Forbes, video will make up 80% of Facebook's content in 2019. Therefore, video is an important ad type to test.
The Video Creation Kit is a new tool within Facebook's Ads Manager that enables you to create a video with only images, text and a logo. This is a great option for clients with limited or non-existent video creative.
To use the Video Creation Kit, you simply choose a predefined template (either square for Instagram or vertical for Stories) and plug in your images, logo and text. The templates automatically includes motion, which gives the images more of a video effect. Facebook has also now added special holiday templates with holiday images and gift giving themes.
Tip: Since you can choose a vertical template, this is also a good option for those looking to test out Stories as a placement without having to invest in creating special vertical content.
You will find Video Creation Kit within guided ad creation, when you select the ad type of Image.
3. Test Campaign Budget Optimization
Campaign Budget Optimization (CBO) is Facebook's new smart budget strategy.
With CBO, you set your budget at the campaign level, rather than the ad set level. The "machine" is then able to distribute the budget among the ad sets with the goal of achieving the most of your desired action (your campaign objective).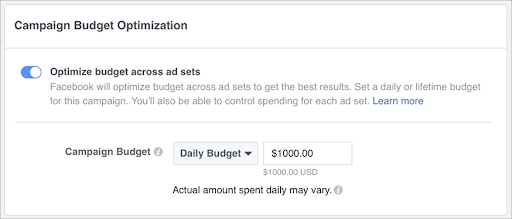 Here at Rocket Clicks, we like to have a little healthy skepticism with new machine learning strategies, as we often feel human-powered intervention is necessary for optimal performance. That disclaimer aside, CBO might be a good strategy for those with limited budgets.
Rather than keeping ad sets with very small budgets, you can put a larger budget at the campaign level and let the system learn and optimize for you without restricting the spend as much.
When using CBO, it is important for each campaign to only use one targeting strategy. For example, one campaign for remarketing, one for prospecting, and one for awareness.  These different levels of the funnel will have different costs associated with them, so it's important to group these together so the system doesn't start to favor one strategy over another.
You must also have at least two ad sets within a campaign to try this strategy.
Tip: You also have the option to test CBO in a split test within Ads Manager. This is a good way to see how CBO performs compared to standard ad set bidding before making a full commitment.
For more info on CBO, see Facebook's Help Center.
4. Expand to Up & Coming Placements
There are a few newer placement options within Facebook that we have seen success with here at Rocket Clicks.
The first is Marketplace, a new area within the Facebook app where users can buy and sell goods (similar to Craigslist).
Advertisers now have the ability to show ads within Marketplace, alongside organic posts from other sellers. The CPCs in Marketplace thus far have been very low compared to other placements, since this is a new placement and not all advertisers have enabled it yet. We have also seen high conversion rates, since users in Marketplace likely already have the mindset to make a purchase.
Messenger is another newer placement option. You can now show ads right within the Messenger app. This placement tends to be lower volume and has a lower conversion rate, since users are here to chat with their friends. That said this is a good placement for a branding play in order to get your brand name in front of many new potential customers.
Finally, Instagram Stories is another newer placement that has a lot of potential to drive higher impression and conversion volume.
According to stats provided by Instagram, of the 400 million accounts using Instagram Stories every day, one-third of the most viewed Stories come from businesses, and one in five Stories gets a direct message from its viewers. Instagram Stories is a full-screen, vertical ad format, so it does require special creative (ortry Video Creation Kit as mentioned above).
5. Add a Shop Section to Your Facebook Page
Facebook Shop is a section of your Facebook Page that enables you to showcase and sell your products.
Having a Shop section is great for driving incremental organic sales; however, the major benefit of a Shop section is the ability to tag your products within Facebook and Instagram posts, which can then be boosted and promoted.
If you use a third-party app like Shopify or WooCommerce, uploading your products to Facebook is very simple. If not, there are other ways to upload products.
Once the products are set up, you can tag them in a Facebook or Instagram post, which can then be "boosted" to your target audience to gain additional views and traffic.
You can also tag them within Instagram posts and Stories.
When you tag a product within an Instagram post, your post may appear in the Shopping Channel, a new feature of Explore that Instagram is testing. Each user's Shopping Channel will be filled with products they have previously shown an interest in, or that the algorithm thinks they will like.
Having your post show in Instagram Shopping is completely free (currently, anyway), which is what makes it a great opportunity. Since it is not a paid placement, there's no guarantee your post will show. Still, any incremental impressions or sales gained are completely free. Since this is still a very new (and free) opportunity, now is the time to take advantage of Instagram Shopping.
A tagged product in an Instagram post will look like this:
Please Note: You will need to add your banking information to Facebook in order to receive payments on your purchases. With this service, Facebook charges 2.9% of the purchase, plus $0.30 per transaction.
6. Adjust Your Bids to Push for Additional Volume
As the holidays draw near, we know we can expect to see competition increase. As competition increases, our costs typically follow suit. If your costs do not increase (i.e., if your bids aren't competitive), you can expect to see performance decline.
To avoid a decline in performance, it is a good idea to manually adjust your bids during the holiday season.
Many Facebook advertisers use automatic Lowest Cost bidding, which simply hugs the bottom of the ad auction and will give you the cheapest opportunities possible. To remain competitive, however, you may want to consider adding a manual bid to override the automatic Lowest Cost option. To do this, select "Add a Bid Cap" when using Lowest Cost.
The ideal bid cap during the holiday season is going to be about 30% over your typical CPC. Using this as a starting point should help you maintain or grow click volume.
You can monitor performance and adjust the bid up and down based on your goals. Try to only adjust the bid once every seven days at most.
Keep in mind that any time you adjust the bid, your campaign will go back into learning mode.
Wrapping Up
In review, these six adjustments can be made to your existing advertising strategy to drive additional growth during the holiday season. What it really boils down to, is making sure that you are taking full advantage of the tools offered by Facebook and Instagram so that you are able to gain additional sales from their vast user base.
If this sounds overwhelming, fret not! Give us a call and see how Rocket Clicks can help you maximize your opportunities this holiday season.