Facebook has recently launched a "data discovery" tool called Insights to Go. This new tool can be found in Facebook IQ which is a hub for insights, strategies and market research. Insights to Go is an interactive tool that offers advertisers actionable insights into a variety of industries, as well as demographic groups, and ad placement types.
How to Use Insights to Go
This tool is simplistic in terms of use, but it provides an almost endless number of insights and ways to look at audience groups.
Advertisers can select from six filters, including region, industry, people, moments, campaigns, and platforms.
Moments are defined as "calendar-marked holidays, cultural events, and seasons." Campaigns are defined as "creative formats, measurements and data types." Platforms are defined as "Facebook platforms and advertising channels."
The breakdown of each filter is shown in the chart below.
Region

Industry

People

Moments

Campaigns

Platforms

Global

Automotive

Community

Seasons & Holidays

Creative

Platforms

North America

B2B

Audiences

Holiday Season

Instagram Stories

Facebook

US

Beauty & Health

Women

Black Friday

Video Ads

Instagram

Canada

Beverage

Men

Cyber Monday

Measurement

Messenger

Europe, Middle East & Africa

Consumer Packaged Goods

Parents

Back to School

Data Types

Audience Network

UK

Ecommerce

Millennials

Easter

People Insights

Channels

France

Education

Gen X

Father's Day

Advertising Insights

Mobile

Germany

Entertainment & Media

Boomers

Halloween

Success Stories

In-store

Italy

Financial Services

Mobile-First

Mother's Day

Apps

Poland

Food

Omni-Channel

Ramadan

Messaging

Middle East

Gaming

Lifestyle

Summer Season

Television

Latin America

Luxury

Milestones

Valentine's Day

Video

Argentina

Restaurants

Weddings & Engagements

Pride

Brazil

Retail

Birthdays

Entertainment

Mexico

Tech & Company

Award Shows

Asia Pacific

Travel

E3

Australia

Sports

Hong Kong

American Football

India

Soccer

Indonesia

Winter Sports

Japan

Malaysia

Philippines

South Korea

Thailand

Vietnam
*The bolded options are larger categories that can be selected. Choosing that will include all the categories below it (e.g., selecting "North America" will provide insights for both the US and Canada).
After applying the desired filters, an advertiser can view a variety of insights which they can share, download, or view related insights. The source of the information is also provided if you hover over "source" in the bottom left-hand corner of each insight box.
It's important to note that, as filters are selected, additional filter options will be grayed out if enough data is not available.
[insert "filter_selection" image]
So now that you know how to use Insights to go, what can you use it for? Here are a few ways Insights to Go can inspire ideas or provide relevant insights for your target audience.
Inspire New Placements
Looking to test out a new placement?
Here is an example of a travel business in North America who is considering expanding their advertising into Instagram. Based on these insights, this travel business knows that 96% of travel respondents say they use Instagram because it encourages them to fantasize about visiting exciting places.
In addition, posting ads with the hashtag #hiddengem reaches over 290K people. Not only does this support an expansion into Instagram, but it also provides useful tips for ad creative.
Test a Different Ad Format
Similar to looking to test a new placement, Insights to Go can also provide interesting insights into how your target audience interacts with different ad formats.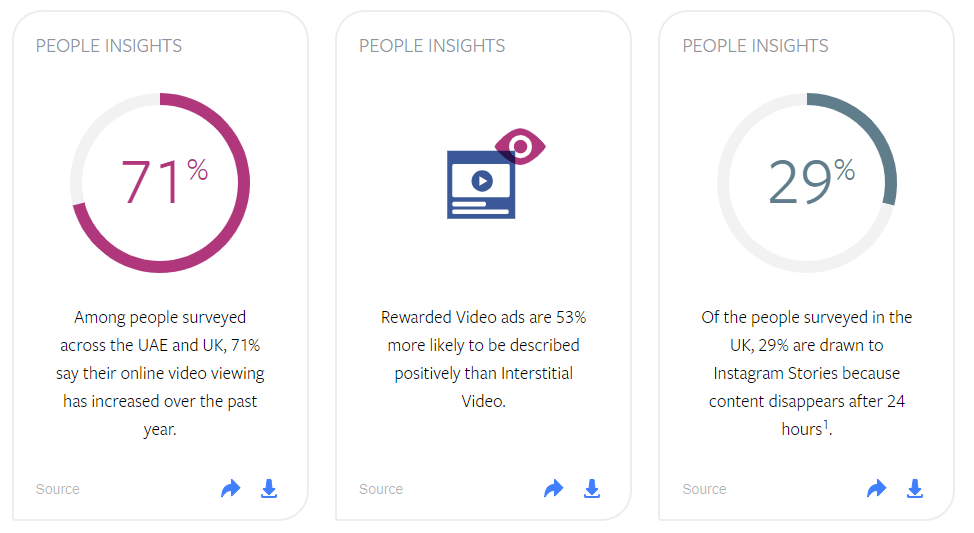 In this example, 71% of users surveyed in the UK have said that their online video viewing has increased over the last year. This is a good indication to test out video ads, but what type of video ads?
Well, another insight shared that rewarded video ads are 53% more likely to be described positively than Interstitial video.
Learn from Others in Your Industry
There are times when you may not have a large budget for testing new features, or you may just be lost in the sea of options without a good idea where to start.
Insights to Go has "success stories" from popular industries that can help to guide you when deciding which test is best. Learn from their successes—and failures—to determine what is best for your business and the audience you are trying to reach.
Interested in trying Insights to Go out for yourself? Head over to Facebook IQ.