This Week's Industry News
Compiled By Rocket Clicks Staff
Google Now Features Google+ Instead Of PPC Ads, Depending On The Query
Google is testing a new look for its sidebar, featuring Google+ content and widgets based on certain search results. Google gave their usual "We're testing everything" answer when asked about it, but given their massive push towards getting people onto their static social network, it's a plausible guess that this will become permanent.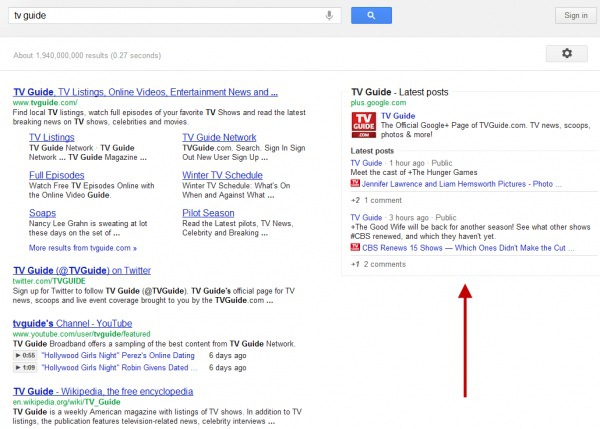 Source: Search Engine Journal
People, Businesses Still Diminish The Value Of Organic Search
Most businesses look at marketing from a first/last-touch attribution perspective, meaning they place almost all of the emphasis on the single referral source for a given conversion. However, a study from SlingshotSEO has determined those companies often severely undervalue search marketing.
According to the study, which focused on multi-touch attribution, organic search is 77.25% undervalued in most cases, paid ads and referrals are slightly undervalued, and direct visits are overvalued 81.59% of the time. If ever there were a better time to reference MoneyBall, undervalued assets, and search marketing, this would be the time.
Source: Search Engine Watch
AdWords Raises Campaign Limit To 10,000, Kills Demographic Bidding
Google AdWords has increased the number of campaigns available to a single account from 500 to 10,000. This includes 20,000 ad groups per campaign, 5,000 keywords per ad group, 300 display ads per group, and 4 million active and/or pauses ads in each account.
Additionally, Google has eliminated demographic bidding, going into full effect sometime around March 21. Data gleaned from Demographics targeting is still live, however.
Source: Search Engine Watch
Google Drastically Changes Webmaster Tools Crawl Errors, For Better Or Worse
Google Webmaster Tools Crawl Errors have long been essential to determining where to focus your Googlebot troubleshooting issues. However, the search engine recently changed the way crawl errors are accessed, reported, and displayed. Vanessa Fox does an excellent job of describing everything that has been removed or added, so we'll yield to her handy work on this one.
Source: Search Engine Land
In Opinion Oxymoron News, People Love And Hate Personalized Search
According to a recent Pew Report, people feel personalized search raises major privacy red flags, and will eventually lead to more homogenous searches that limit the display of the most relevant information.
However, an overwhelming majority (86%) have learned something new from searching on Google, and 55% of searchers claim results are getting better over time.
Source: Search Engine Watch
Paid Search Ads Give A Major Boost To Traffic, According To The Company Trying To Get You To Buy Ad Space
In a self-serving, yet validating study, Google confirmed the assumptions that paid advertisements will boost traffic to a website. Specifically, Google determined PPC advertising sends roughly 85% more traffic to websites, relative to their traffic before using paid ads.
Source: Search Engine Land
Online Reviews Are Totally Legit, According To 72% Of People
The 2012 Local Consumer Review Survey has been released, and tidings of great joy for good local businesses. According to the report, a whopping 72% of consumers put as much trust into online reviews as they do into personal recommendations.
On a similar note, the study found that most people read between 2-10 reviews (65%). They also tend to put more trust in a fewer amount of reviews than in the past (15% read 11+ reviews, compared to 22% in 2010).
Source: Search Engine Land
PPC Ad Spend Drops 6.4% In 2011 Fourth Quarter
Fourth quarter spending on search and display advertisements in 2011 dipped 6.4% compared to the third quarter. Most of the search reduction occurred in the financial, local, and insurance industries, while telecom providers, auto manufacturers, and travel companies scaled back their display ad spending.
Source: Search Engine Watch
Facebook 'Interest Lists' Is Sort Of Like Google Reader
Facebook introduced "Interest Lists" last week, a new menu feature that helps users filter and sort their favorite Pages for businesses, food, sports teams, musicians, etc. Facebook views the organizing system, soon to be found in the bottom left sidebar menu, as a self-optimized online newspaper.
Source: Search Engine Watch
President Obama Conducts Cyberattack Simulation To Promote Legislation
On Wednesday, the White House demonstrated a hypothetical cyberattack that disabled New York City's power grid. The motive for this faux enactment was to promote a current Congressional bill that would approve more governmental control over private systems.
That same day, AT&T and Comcast testified against the legislation, arguing it would stifle innovation and the current consensual policy was better for business.
Source: Search Engine Journal
America's Most Wanted: Facebook Edition
The FBI is seeking out potential tipsters on Facebook and Twitter in the hopes that a comment or two may lead them to a 22-year-old Pittsburgh man on the run. Kenneth John Konia is wanted for allegedly hijacking his employer's armored car, shooting a fellow employee, and making off with $2.3 million.
Given the reach and sharability of content on Facebook and Twitter, especially on mobile devices, it's an interesting and fairly cheap way for authorities to seek out tips for catching criminals.
Source: Mashable
Yahoo Takes Facebook To Court For Patent Infringement
It's official: Facebook has been served with a lawsuit courtesy of Yahoo. The floundering search engine/media company is alleging an infringement on 10 patents that boost in the functionality of social media websites. Yahoo claims some of Facebook's most notable features, including the News Feed and video content ads, are based on Yahoo's patents.
Update: The Internet hates Yahoo.
Source: Search Engine Watch
CNN Allegedly Thinks Mashable Is Worth $200 Million
According to a recent report, CNN is on the verge of acquiring Mashable for a cool $200 million. In seven years time, the social media news-based website has growth to an average monthly viewership of around 50 million.
Source: Search Engine Journal
Scientists Are Developing Human-Aware Robots
Research at the Georgia Institute of Technology has unearthed a startling prediction for those of us that shiver upon hearing the words, "self-aware." Some scientists believe a real-life Rosie The Robot (or Bender, who knows) will be a staple of every home within the next decade.
The institute's newest study, out of Georgia Tech, has discovered ways to make robots more responsive and understanding of human speech and behavior. The common phrasing of human questions helped the scientists produce results that could help programmers accelerate their innovations in robotics.
Source: Mashable
The Android Screen-Lock Feature Is FBI-Proof
Android phone security is so tight that an agency with expert code breakers and access to every piece of forensic technology couldn't crack its code. The FBI ultimately failed to unlock a Samsung Exhibit II mobile phone after multiple attempts, according to federal court documents.
The FBI came into this predicament while trying to unlock a San Diego-area prostitution pimp's phone during a trial. Google has been served a warrant to assist in the case. The phone requires a user to submit their email and a password after too many unsuccessful finger-swipes.
Source: Wired
Germany Wants To Tax Search Engines, Aggregators
The U.S. isn't the only country with a rapidly declining print media. Germany has a similar issue with plummeting media revenue, and the government is proposing a tax on news and information aggregators, such as Google, Digg, and Drudge Report. Somewhat ironically, many of these floundering media organizations receive substantial referral traffic from these one-stop news shops.
Source: The Washington Times
Kony 2012 Has One Very Notable Critic: The Ugandan People
The virality of Invisible Children's Kony 2012 mini-documentary is unquestionably impressive. However, while the video has achieved its goal to many Joseph Kony a household name in the Western world, many Ugandans affected by his brutality are not happy about the coverage.
Source: Mashable
Energy Monitoring App Exposes Teen's Party
Who needs police or secret cameras when you have the Fluksometer and an Android app? An Australian man busted his daughter's New Year's Party while sitting at a restaurant 500 miles away, thanks to a device and app that monitor energy use in his home. The man saw a large spike in energy consumption, coincidentally on New Year's Eve, and was able to put two and two together.
Source: Gizmodo
Notable Commentary
Compiled 10,000 Feet In The Air
A Guide To Comprehending And Conquering Google's Venice Update
Local search is a major money maker for businesses, and Google is smart enough to know focusing on improving those results will help everyone. Mike Ramsey runs through this largely under-the-radar change, and how marketers should tweak their local SEO strategies.
Analysis By: Mike Ramsey, SEOmoz
INFOGRAPHIC: Google Algorithm Alterations In Timeline Form
If you ever feel like catching up on a cliff notes history of Google's algorithm updates and changes, Search Engine Watch has a cool infographic that starts at 1998 and ends at "To Be Continued…". It definitely puts their past, present, and future algorithm tweak into historical context.
Analysis By: Melissa Fach, Search Engine Watch
Comparing, Utilizing Bing And Google's Treatments For Breaking News
According to a recent study, Google and Bing view the process for ranking "breaking news" stories in slightly different ways. Miranda Miller compares some of these interesting differences, and offers 10 pieces of advice to help marketers appear above the fold on both search engines.
Analysis By: Miranda Miller, Search Engine Watch
The Importance Of Rich Snippets, In Visual Form
Rich snippets display small bits of information in the SERPs that help searchers determine whether your site is most relevant to their query. Selena Narayanasamy has a cool visual run through of all of the important details relevant to the growing influence of snippets.
Analysis By: Selena Narayanasamy, SEOmoz Blog
Bing Offers People-Centric Insight Into Social Search
Paul Yiu, Bing's Principal Group Program Manager for Bing Social Search, stopped by Stone Temple Consulting to answer a few burning questions. Specifically, he discusses how Bing uses "people power" to fuel its social search, and how Facebook and Twitter are crucial to its development.
Analysis By: Greg Finn, Search Engine Land
Optimizing For Twitter's Inevitable Growth
Twitter is no longer the social media new kid on the block. More and more people are joining the real-time social network, further reducing the immediate visibility of any one account. Lisa Buyer offers some tips for optimizing your Twitter marketing strategy in these days of tweet gluttony.
Analysis By: Lisa Buyer, Search Engine Watch
Ten Overlooked Ways To Attract Mobile Facebook Traffic
Despite Facebook's best worst efforts with apps, 50% of their traffic comes from mobile devices. Coupled with the skyrocketing usage of smartphones and tablets, that number won't be declining anytime soon. Brian Klais explores 10 secret methods for enticing that traffic to your site.
Analysis By: Brian Klais, Search Engine Land
The Wall Street Journal Joins The Official "We Don't Know What Google Does" Club
The Wall Street Journal recently published a story detailing an impending major change to Google's algorithm. The funny part is most of the changes they cover are well-known among Internet marketers, and have been in place, for quite some time. Danny Sullivan systematically takes down each of these "new" updates in a very professional way (seriously).
Analysis By: Danny Sullivan, Search Engine Land
Kony 2012 Teaches Video Marketers A Few Lessons
Kony 2012 was just released on March 5, and has registered over 70 million views and countless coverage on national news programs. The point of this article isn't to glorify or vilify the video, but point out the process by which it became so popular, with the help of an academic study.
Analysis By: Greg Jarboe, Search Engine Watch
The Association Of Tennis Professionals 404 Page Will Make You Want To Watch Tennis
The Internet marketing world has never shied away from a good groan-inducing pun. The ATP's 404 error page is a perfect eye-rolling combination of sports and website puns. Click and enjoy.
Analysis By: Erik Malinowski, Deadspin