Pay-Per-Click Advertising
Milwaukee digital marketing and advertising solutions from a Google Premier Partner
Milwaukee, WI PPC Services
Milwaukee Digital Marketing: Actionable Analytics & Data-Driven Decisions
As online advertising continues to grow in complexity, finding the right partner to help you optimize your pay-per-click (PPC) program in the greater-Milwaukee area is instrumental to obtaining successful business results.
The fact is, getting great results from Milwaukee PPC requires expertise, but it also demands a proven process that has worked before. As a Google "Premier" Partner, our team size, dollars under management, certification status and growth have qualified us to have dedicated agency support and special access to trainings and beta opportunities.
Our team of Milwaukee-based online advertising professionals have a cadence that drives the most value for our partners by advancing strategy, increasing clarity and accountability, and setting priorities based on expected impact.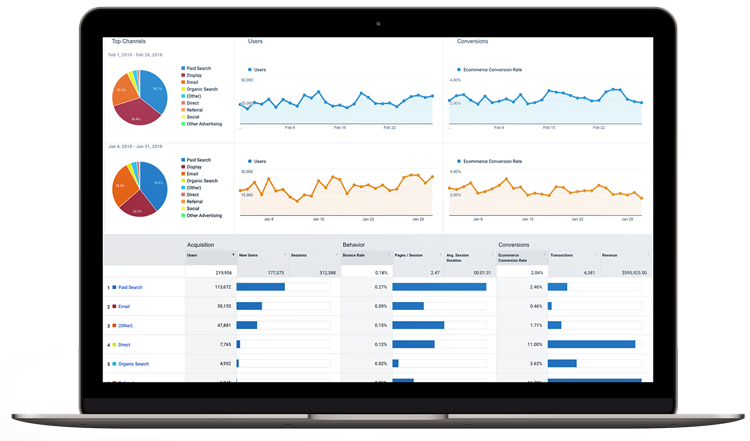 Success Starts With a Simple Plan
Milwaukee PPC Services
Shopping & PLA Management
Display Advertising
Social Media Advertising
Mobile Advertising
Video Advertising
Remarketing & Retargeting
"We've improved in every industry-recognized metric since hiring them."
"Rocket Clicks is persistent and always ahead of the curve."
"We value their results-driven mindset and the robust, detailed reports that match."
"Their accountability and expertise set them apart from similar vendors."
"Rocket Clicks successfully increased awareness of our services among our targeted audience."
"Their willingness to go the extra mile really sets them apart from anyone else in the field."
"We've seen an incredible turnaround in organic search, PPC inbound traffic, and leads."
"They take proactive steps to keep our projects on track and push us if necessary."
"Rocket Clicks has helped us use our resources wisely and get high-value donations."
"As a result of our work with Rocket Clicks, we've seen a lift in all our online traffic and lead generation programs."
"Rocket Clicks brought down our cost per acquisition by over 30%."
"I don't think that we'd be in business without Rocket Clicks."
"They stay up to date on all the changes in everything that goes on with Google and Bing."
"They really came alongside us as a team and are partners in our growth."
"The Rocket Clicks team was very communicative and well organized."
"Rocket Clicks is worth the money for their SEO services."
"We definitely get a return on what we invest with Rocket Clicks."
"Their ability to adapt our program to analytical changes has been impressive."
"The thing I am most impressed about Rocket Clicks is that they actually feel like an extension of our team."
"Their passion and knowledge set them apart from others as well as their ability to understand our vision."